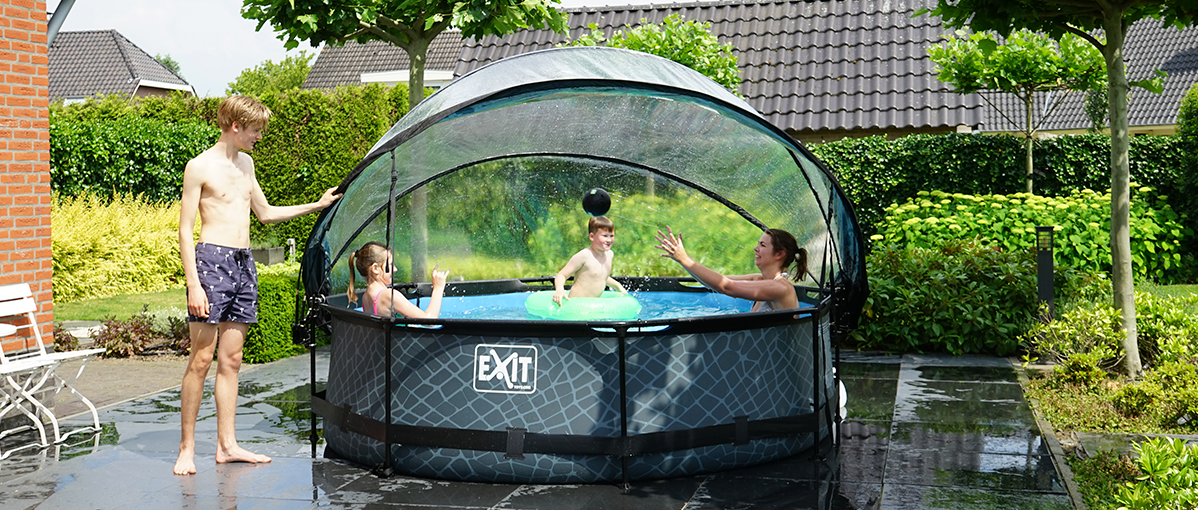 Does an EXIT swimming pool cover fit on my pool?
Do you already have a frame swimming pool in your garden, and do you also want a cool pool dome from EXIT Toys on your pool? Good news: our round pool domes also fit pools of other brands. Are you curious if an EXIT dome fits on your pool? EXIT Toys explains:
Round swimming pools with a frame
On our website you will find the matching dome for all EXIT frame swimming pools. And it could be that one of the domes from EXIT Toys fits on your pool from another brand! Please note: this only applies to our round pool domes. The rectangular domes only fit the rectangular swimming pools from EXIT Toys.
It is important that your round swimming pool is a frame pool and that it has no other construction such as a steel wall swimming pool. The domes are made in such a way that you mount them on the tubes of the swimming pool frame. Do you own a round swimming pool with a frame? Time to grab the tape measure and find out if the dome really fits your swimming pool. Observe the following dimensions:
Has the pool the right diameter?
To see if the EXIT swimming pool dome does indeed fit on your round frame pool, first look at the entire diameter of the pool. Our round swimming pool domes come in sizes 300cm and 360cm, but are fortunately very flexible: the small dome fits on pools with a diameter between 300 and 310 centimetres and the large dome fits on pools with a diameter between 360 and 370 centimetres.
The right frame thickness and height
In addition to the diameter of the entire swimming pool, the tube thickness of your pool's frame is important. As you can see in the pictures below, the round EXIT Toys domes fit on swimming pools with legs no thicker than 40 millimetres in diameter and the top rail no more than 50 millimetres in diameter. Measure the frame of your swimming pool carefully before you order the dome. Does your swimming pool meet all these requirements and is the pool also between 50 and 130 centimetres high? Then you're lucky: the EXIT dome fits on your round frame swimming pool.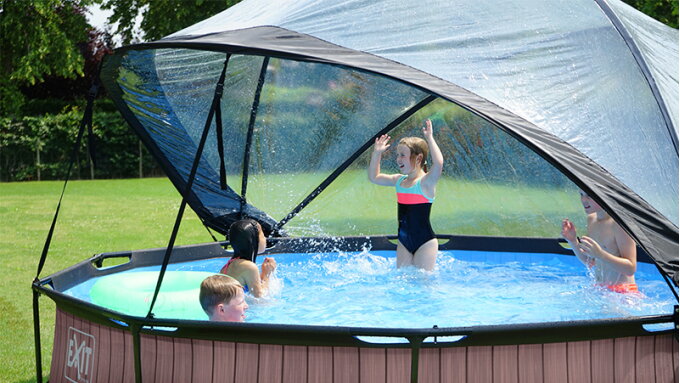 Order the EXIT pool swimming dome on our website and complete your frame pool. With a dome from EXIT Toys on your swimming pool it will be a dazzling summer anyway! View our range of pool domes.
What to know more? Call, email or chat with us!
Do you have any questions about our pool covers and whether they fit your swimming pool? Please let us know! Contact us via chat, call us at +31 314 - 796 020 or email us at info@exittoys.com. We will be jumping with joy to help you!
Written by: Iris