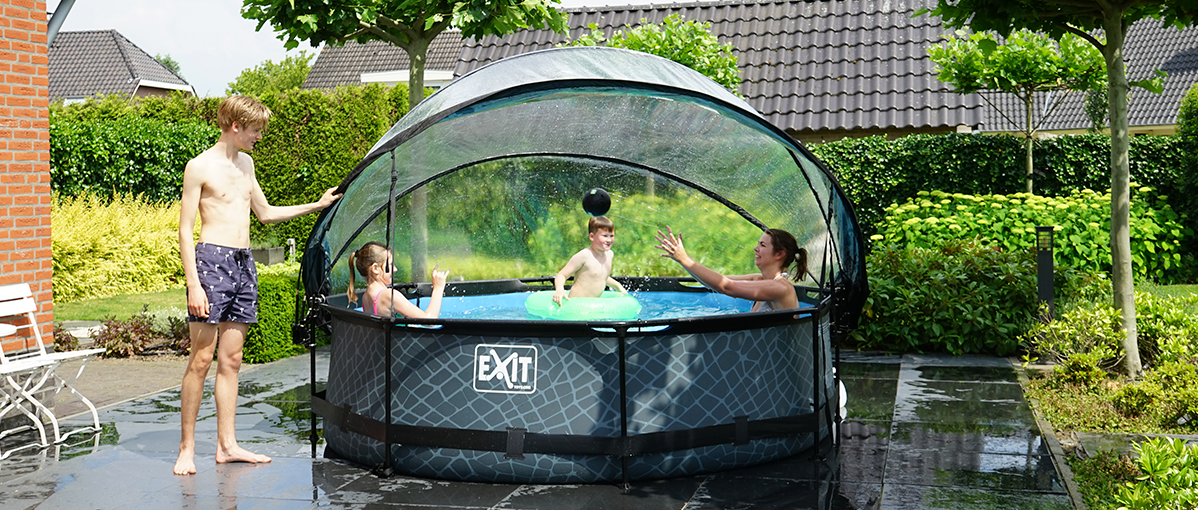 Will an EXIT swimming pool dome fit on my swimming pool?
Do you already have a frame swimming pool in your garden and would you also like such a cool swimming pool dome from EXIT Toys? Good choice! The swimming pool domes can also be purchased as a separate item. And these are not only made for EXIT swimming pools, but also fit on pools of other brands! Curious about whether there is a suitable dome available for your frame swimming pool? In this blog we explain what's possible.
What do you need consider when purchasing a dome?
Our swimming pool domes only fit on frame swimming pools and not on pools which have other constructions, such as those with a steel wall. This is because the domes need to be mounted to the swimming pool frame. In addition to that, it is very important that the dome fits perfectly on your swimming pool. Therefore, start by measuring your swimming pool to determine which EXIT dome is most suitable for your pool. Are these within the margins? Then it's time to check the frame thickness and height.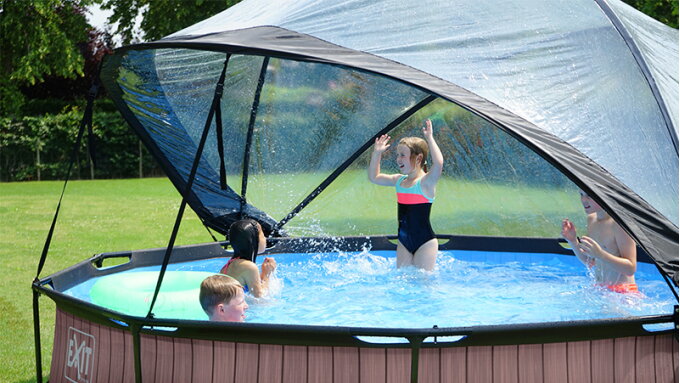 The right frame thickness and height
Not only the swimming pool measurements are important, but also the thickness of the frame tubes play a crucial role. As shown in the table below, the EXIT Toys domes fit on swimming pools with a leg diameter no thicker than 40 millimetres and a top rail diameter no greater than 50 millimetres. So, measure the frame of your swimming pool accurately before you purchase a dome for it. Does your swimming pool meet all these requirements and is it also between 50 and 130 centimetres high? Then you are in luck: the EXIT dome will fit on your frame pool!

Beware! The rectangular domes in sizes 400 x 200 cm and 540 x 250 cm do not fit on swimming pools of another brand.
All dimensions in a row
The table below gives you a clear overview of all the necessary requirements your swimming pool needs to meet. Check the measurements of the pool, its legs and top rail to find the perfect dome for your swimming pool.
Find your perfect dome
Order the EXIT swimming pool dome on our website to complete your frame pool. With a dome from EXIT Toys on your swimming pool it will be a splashing summer no matter what! Check out our collection of swimming pool domes.
What to know more? Call, email or chat with us!
Do you have any questions about our pool domes and whether they fit your swimming pool? Please let us know! Contact us via chat, call us at +31 314 - 796 020 or email us at info@exittoys.com. We will be jumping with joy to help you!
Written by: Iris