EXIT panna fields
Panna football is the trend in street football and is becoming increasing popular among youngsters. Panna means 'gate' and you score a Panna if you manage to manoeuvre the ball between your opponent's legs and retain possession of the ball. A challenging football game that never becomes boring!
Continue reading Read less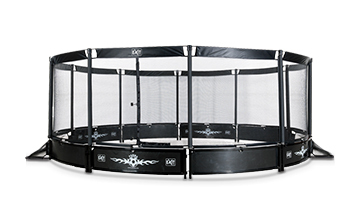 Panna football with your friends
The panna fields come in various sizes and shapes. You can also choose to have a field surrounded by a net. The EXIT panna fields are affordable and are designed to fit easily in your garden. You no longer have to go to a public area to play a game of panna football!
Strong frame with a long lifespan
The boarding of the Exit panna fields is made of a lovely black metal frame, galvanized and powder-coated for a long lifespan. A panna field can be set up anywhere; the boarding can be mounted and dismantled quickly, because the frame parts are hooked into each other instead of screwed. And did you know that with the EXIT panna field extension kit you can easily turn a round field into an oval-shaped field?
Panna battles at any location
Finally something other than the standard football match? Thanks to the EXIT panna fields, a panna battle can be played anywhere: on grass fields, hard surfaces or in a sport hall in case of bad weather. Turn your panna field into a real panna cage using the EXIT panna field net. That keeps the ball inside the field and you can play without interruptions!
Read less


Two boarding elements
For all EXIT panna fields

In stock, directly available