EXIT go-karts
You will experience the coolest adventures with the go-karts EXIT Toys. Race around the block with friends and transport goods from A to B in your own eigen go-kart trailer. EXIT go-karts ensure endless hours of great fun!
Continue reading Read less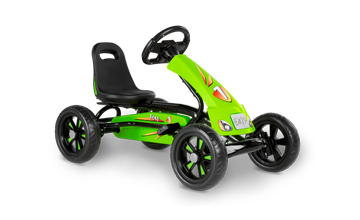 For small and tall
EXIT Toys has go-karts for children of different ages and with its adjustable seat the go-karts can grow with the them. The EXIT Foxy skelters are suitable for children from the age of two and we have the EXIT Spider and Cheetah go-karts for the older children. The EXIT skelters are lightweight, which makes them easy to carry along everywhere. Go your own way with the EXIT go karts!
Steel the show with your go-kart!
The go-karts from EXIT Toys are available in different colours and themes and are completed with sporty rims, stickers and a spoiler. Extra fun: With the headlights and indicators of the Spider en Cheetah go-karts you will even stand out in the dark. The EXIT soundbox with real racing sounds makes your go-kart extra cool and with the EXIT safety flag you will be more visible. So, steal the show with your own EXIT go-kart.
Go-karts with trailer
Like a professional driver with the EXIT go-karts with trailer. The EXIT trailers are specifically designed for our go-karts which is why they have the same cool designs. You can use them to transport sand, leaves or toys and the fun thing is: with its functional tipping position you don't need to seperate the the trailer from the go-kart to empty it.
Do you already have you own EXIT go-kart and would you like a trailer to go with it? The EXIT trailers are also separately available: choose a matching trailer or go for another cool design and race around like a real pro!
Read less


For children between the ages of 3 and 8
Adjustable in 3 positions
Easy to steer

In stock, directly available

For children between the ages of 3 and 8
Adjustable in 3 positions
Easy to steer

In stock, directly available