EXIT panna fields
Three against three or five against five? The panna fields from EXIT Toys are perfect for a mini games of hockey, in the backyard, or at the hockey club. Because the panna fields are smaller than a regular hockey field, you not only learn to react quicker to the ball, but also to improve your tactics and skills as a team. In short: the hockey panna fields from EXIT Toys offer the ultimate challenge.
Continue reading Read less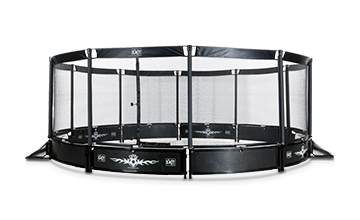 Battle on any location
Want to play something different to just a regular game of hockey? A panna battle can be played on any location with the EXIT panna fields: On grass, on solid ground or when the weather is bad, in the sports center. Complete your panna field with a panna field net.The net can be attached to the boarding panels and ensures that the ball will stay in the field. So you can play hockey without being distracted.
Sturdy frames with a long lifespan
The boarding panels from the EXIT panna fields are made of a black metal frame, which is galvanised and powder coated for a long lifespan. Because the different elements of the frame are hooked instead of screwed together, the panna fields can easily be assembled. And did you know that you can make a round or oval panna cage with the EXIT panna field extension kit?
Read less


Two boarding elements
For all EXIT panna fields
Sleek black design

In stock, directly available