EXIT multi-sport net
Are you a jack-of-all-trades when it comes to sports, in other words, you like all sorts of sports? With the EXIT multi-sport net, you can set up a net in a trice for tennis, beach ball, volleyball or badminton. All this is possible!
Continue reading Read less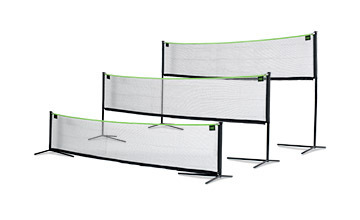 Multi-functional use
The multi-sport net is easily adjustable to various heights; that depends on which sport you want to practice This sport net is available in various sizes and is not only suitable for a garden. It can also be set up easily in a sports hall for volleyball or badminton players, for example. Spending a day at the beach? You won't have a dull moment!
A collapsing net is history
You are in the middle of an exciting game of volleyball when suddenly the net falls down. Bummer! Fortunately, this will never happen with the sturdy supports of the EXIT anchoring system for the multi-sport net. And if you need to mow the lawn, simply lift the sport net out of the anchors. Even without the anchoring system, the sport net stays firmly on both supports. For a game of volleyball on the street, this net is a perfect solution.
More information? Call, mail or chat with us!
Do you have additional questions about the EXIT multi-sport net? Let us know and we will be pleased to provide you with personal advice. Contact us via chat, call +31 314 - 796 020 or send an email to info@exittoys.com. We will contact you within 24 hours!
Read less


Stands very firmly
Includes anchoring set
Adjustable to 3 heights


Stands very firmly
Includes anchoring set
Adjustable to 3 heights