EXIT Supreme trampolines
Are you looking for a top quality trampoline? Then the EXIT Supreme ground level trampoline is an excellent choice! These trampolines have high quality padding, long springs and a luxurious appearance. The trampolines are available in different sizes and in the colours green, grey and black, plus you also have the option of choosing a safety net to go with it.
Continue reading Read less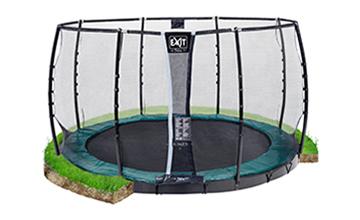 Fully integrated into your garden
With the Supreme trampolines, built in-ground really means in-ground. The trampolines are fully integrated into your garden, making them less visible. Thanks to the specially developed aeration system, the air is extracted via the mat and padding when people jump on the trampoline.
Top-quality finish
Trampolines that can withstand wind and bad weather? Thanks to the top-quality and very wide padding, Supreme trampolines can remain outside even at temperatures of up to -25°C. Even in the winter, you don't have to worry about the trampoline. In addition, the safety net has a child-friendly entrance with an overlapping door; always safe for the kids.
Super cool trampoline accessories
There are all sorts of accessories available for our trampolines. Make trampoline jumping even more fun with the EXIT trampoline basket on the safety net or protect your trampoline with a weather cover for a longer lifespan. View all our trampoline accessories and covers for more information.
Read less