EXIT Twist trampolines
Have extra fun jumping on a trampoline with the EXIT Twist trampolines. This trampoline series is available in various sizes, both on legs and sunken into the ground. Have the greatest jumping adventures on the Twist trampolines with its reversible padding and educational jumping mat. Let's jump!
Continue reading Read less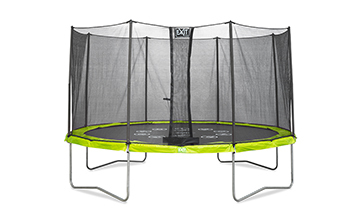 Colourful trampolines
The Twist trampolines are available with a green/grey or pink/grey padding. Why two-colour combinations? These trampolines have reversible padding so if you get tired of seeing one colour, you can reverse it to another colour in a trice.
Trampolines with a Twist
In which year were you born? How old is grandma? Or how many houses are in the street? Quite different from other trampolines, the round EXIT Twist trampolines are equipped with a jumping mat with numbers. You can make up all sorts of jumping games using these numbers. Learning while playing becomes very simple!
Super cool trampoline accessories
Obviously, there are all sorts of accessories available for our trampolines. During the winter, protect your trampoline with a weather cover for a longer lifespan; use a ladder to climb easily unto the trampoline or put your shoes in a shoe bag. View all our trampoline accessories for more information.
Read less