Basketball
A game of basketball or training for a competition? All this is possible with the EXIT Toys basketball systems. The portable basketball backboards, basketball hoops and nets are of excellent quality, height-adjustable and suitable for every age. Let's go and train for that fantastic slam dunk!
Continue reading Read less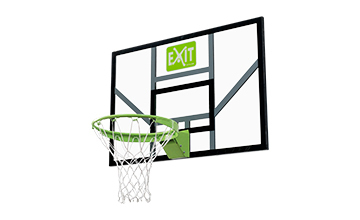 Basketball backboards mounted on the wall
Basketball backboards mounted on the wall is an asset for every garden or driveway. Play a game of basketball with friends or train your ball control and increase your total shooting score with the EXIT basketball backboards for the wall. The boards are height-adjustable so that young and old can play or train.
Basketball backboards for mounting on the ground
Are you a die-hard basketball fan, but you have no place on the wall to mount your hoop? Then the EXIT basketball backboard dug into the ground a good choice. You can dig in your basketball pole into the ground, but you can also choose a portable model. The portable basketball backboard can be used at a camping site, in school yards or in a sport hall. For the younger basketball fans, we have the EXIT Hoopy junior basketball backboard.
The perfect slam dunk
If you don't have enough space for a complete basketball system, but you regularly like to play basketball, you can also buy the separate EXIT basketball hoop. EXIT Toys has various types of basketball hoops, such as a fixed hoop and a dunk hoop. Yet a basketball hoop is not complete without a basketball net and basketballs.
Choose your own style
The EXIT basketball systems are available in two different styles. Would you like one with a professional look? The EXIT Galaxy, Polestar and Comet basketball systems have a transparent backboard just like in official basketball matches. Or go for a basketball system from our unique Black Edition-series: the EXIT Galaxy black edition with its cool and striking black look is a real eyecatcher your garden.
Read less