EXIT GetSet units
Bring the gym to your own backyard! With our EXIT GetSet units you can do your favourite workout at any given moment. Strength, endurance or fitness exercises: you can do it all! For loads of fun and challenge for sportive 14+ year-olds and adults.
Continue reading Read less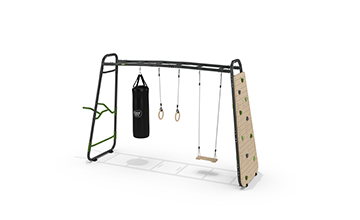 Versatile GetSet play and sports combinations
Would you like to have fun on an EXIT GetSet together with your children? With these GetSet play and sports models, on which you can play as well as exercise, you can do this perfectly. While you go through the exercises of your workout, your kids can enjoy swinging, climbing or tumbling right beside you. That way you can keep an eye on them and work on your shape at the same time: win-win!
Challenging GetSet sports units
Are you a sports fan yourself or do your 14+ year-olds enjoy working out with their friends? Then one of these sportive GetSet monkeybars or powerstations is perfect. These units are suitable for all kinds of different fitness exercises, like push-ups, pull-ups, dips, boxing and so much more. You decide when to workout, because with the GetSet you bring the gym to your home and you no longer need a gym prescription!
Choose your own accessories
Would you like to determine all by yourself what your GetSet is going to look like? Then you can choose a GetSet monkeybar to which individual EXIT GetSet accessories can be added. Or make outdoor exercising even more varied by adding for example a climbing wall or gymnastics rings to your GetSet. With the easy suspension system you can change the accessories in the blink of an eye.
Read less