EXIT football goals
You score more often with EXIT football goals! Do you play often on the football field and would you like to practice at home? Then EXIT Toys is the right address for you. football goals come in many types and sizes, suitable for gardens and football fields, from small ones to big ones. That's why we are pleased to help you find the football goal most suitable for your needs!
Continue reading Read less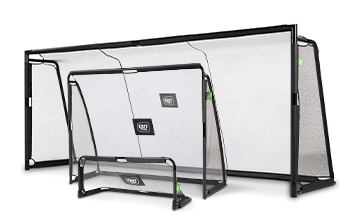 Aluminium football goals: strong and light
The EXIT Scala series is made from aluminium, making it strong and at the same time lightweight. That makes it easy to move the goals if for example you want to mow the lawn. Moreover, aluminium has a long lifespan, because it doesn't get rusty and is not eroded by sun or rain.
Steel football goals: solid and strong
The EXIT Toys steel football goals are popular for many reasons, including its high quality galvanised and powder-coated frame. Steel football goals are solid and strong and have a long lifespan. That is why EXIT football goals are suitable for very intensive use. A training screen is standard supplied with EXIT Maestro, Coppa and Finta for even greater variations while playing football.
The EXIT steel football goals are available in two variants. The goals with a black frame, like the EXIT Coppa, Finta and Forza, are of very high quality and have a sleek design. If you are looking for a colourful and budget friendly football goal, go for the EXIT Tempo football goal: with its striking, fresh green design a real eyecatcher in your garden!
Foldable football goals
The EXIT Flexx football goals are foldable goals that can be set up anywhere in a trice. You can easily and swiftly create a football field where you can train or play a match. The Flexx football goals are flexible and lightweight. Thanks to the handy carry bag, you can take these goals with you anywhere, from the park to a camping site!
football clubs
Is it time to replace the football goals in your club or are you looking for smaller goals so that also younger children can enjoy the sport? The EXIT football goals are suitable for football clubs. Our extensive collection has a football goal suitable for every level of the sport. And thanks to the high-quality finish, the EXIT football goals have a long lifespan.
Read less