Football
Are you such a great fan of football that you can't get enough of this sport? Improve your ball skills, take out your energy in the garden or train for an important game with the rebounders, football- and pannagoals of EXIT Toys. Guaranteed football fun!
Continue reading Read less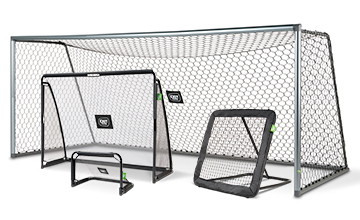 Score your own football goal!
Hit a bull's eye with all the EXIT Toys football goals that meet your demands. You have many choices, such as the EXIT Scala, a highly finished goal with a posh and professional look. Steel football goals, such as the EXIT Panna, Pico and Maestro, with a sleek black frame, the fresh green EXIT Tempo football goals, but also the foldable EXIT Flexx football goals. View the EXIT football goals for more information.
Train your football skills
Doesn't everyone want to be an eye catcher on the football field? The EXIT rebounders make it easy and fast to train your football skills. For example, you learn heading, shooting, receiving and passing. The EXIT rebounders are also suitable for other ball sports, such as volleyball, handball, water polo and tchouckball. View the EXIT rebounders for more information.
From balls to ball catchers
In addition to rebounders, football- and pannagoals, there are also football accessories, such as balls and marking cones that are essential during training. And if you don't want to constantly chase after the ball or to avoid ruining the plants in your garden, then the EXIT backstop sport net is the perfect solution! View the EXIT sport nets and football accessories for more information.
Read less