Sand and water toys
What can be nicer than playing outdoors with your brothers, sisters and friends? EXIT Toys has a variety of play equipment for young and old, such as water tracks, planter tables, sandboxes and play kitchens. Confused about which play equipment to choose? EXIT Toys will be pleased to help you search for the play equipment that meets all your wishes!
Continue reading Read less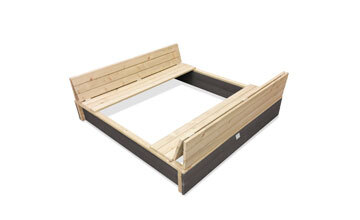 Endless water fun
For children who like to splash water, the EXIT AquaFlow tracks are perfect. The water tracks are available in various sizes and can be constructed in various ways. Makes it possible to build a water track even in a smaller garden. And how about an EXIT Sprinqle water play tiles? The tiles have a built in water spout and squirt up the highest sprays of water at the most unexpected moments. The water tiles are available in different sets and can be placed in your garden in a variety of shapes. A fun and splashing summer guaranteed!
From muddy fun to sand castles
Especially for those who love sand and water, EXIT Toys has the sand and water tables. Fill the containers of the table with sand and water and children will soon discover the best way to make the best mud. So sand and water are great fun to combine with our multi functional tables, but did you know that with a lot of our sandpits you can also play with sand and water? So you can make the most delicious mud cakes in a rectangular sandpit with kitchen, but also for the traditional wooden sandpit you have come to the right place. Check out the EXIT sandpits for more information.
Growing up with nature
Sand, water, flowers and plants? The ideal ingredients for teaching children all about nature. Jointly choose the plants for potting in the soil, because with the EXIT planter tables the children can look after the plants by themselves! Have the plants grown by now? Should I give them some more water? Get to know all about nature!
Bake away!
Do you love to cook and can you bake the most delicious treats? The EXIT wooden outdoor kitchens allow you to do just that out in the open air! Work with the included kitchen accessories, use real water out of your tap and store away the kitchen utensils, nice and neat. The outdoor kitchens are available in 3 variants, ranging from a complete kitchen with everything you need, to a real market stall which you can use to sell your homemade goodies. Little chefs, go for it!
Read less