Multisport
EXIT Toys has a suitable product for almost every sports fan. For those who love ball sports like tennis and volleyball we have our multisport net. With it you can go all out. Would you like to combine fun and sports on your trampoline? Then have a look at our sports trampolines. And would you rather go for a firm strength or cardio workout? Then a GetSet sports unit is just what you need!
Continue reading Read less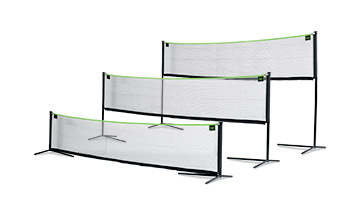 GetSet sports units
With the EXIT GetSet you have the basis for hours of sports fun in your own backyard. Do you choose a GetSet fitness unit for yourself and your sportive 14+ year-olds? Then you can make endless combinations and continue to train different muscle groups. Are your children still a bit younger then a GetSet play and sports model is the perfect solution. Would you like to determine all by yourself what your GetSet is going to look like? Then you can choose a GetSet monkeybar to which individual EXIT GetSet accessories can be attached.
Sports trampolines
On the EXIT Toys sports trampoline, persons of 14 years and up can bounce like a true pro! Because of the double conic springs, you can easily jump sky high into the air and endlessly practice the most difficult tricks. Our sports trampolines are available in various shapes and sizes. Due to the low entrance, they are easily accessible, and they have a serene look. Find out which sports trampoline suits you best!
Multisport nets
Are you a jack-of-all-trades when it comes to sports, in other words, you like all sorts of sports? With the EXIT multi-sport net, you can set up a net in a trice for tennis, beach ball, volleyball or badminton. All this is possible!
Read less