EXIT sand & water tables
You are busy all afternoon with your friends building sand castles and figuring out the best way to make mud. In between, it is also time for drinks and cookies. With the EXIT multi-functional sand & water tables, everything is possible. The tables can be easily converted into a picnic table so that you can also have fun drawing and doing arts & crafts outside.
Continue reading Read less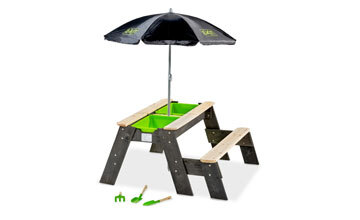 Suitable for any garden
There is a suitable EXIT sand & planter table for every garden. Looking for a smaller table with a separate bench or rather the large picnic variant with attached sitting benches? The tables are available in various sizes. If you choose a bin that stands on the ground, then the kids can even sit in it for added fun.
Long-lasting and safe
The sand & water tables are made from FSC® certified cedar wood (FSC Mix 100%, FSC® SCS-COC-007799). Furthermore, the tables are finished meticulously so that children can play safely with them for a long time. The green bins can be easily lifted out of the table for cleaning.
Read less