EXIT Planter tables
From a young age children are stimulated by nature. From walks through the woods, gathering leaves and chestnuts to a visit to a children's farm. There is always something to do outdoors in nature. Doesn't everyone want to have their very own vegetable garden? Not only educational and fun, but also tasty and healthy!
Continue reading Read less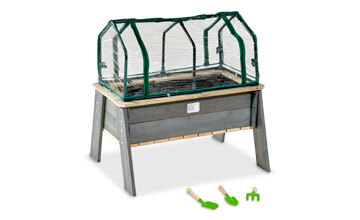 Green fingers!
It's never too early to develop green fingers. Cultivate your own vegetables and herbs or perhaps grow beautiful flowers. All this is possible with EXIT planter tables. The plants naturally need good care, from watering to raking the soil. While having fun, children learn to take care of nature and to have their daily chores.
Long-lasting planter tables
The EXIT planter tables are made from FSC® certified cedar wood (FSC Mix 70%, FSC® SCS-COC-007799). Complete the planter tables with a matching greenhouse to give the plants optimal growing conditions.
Far more fun than you imagined!
The tables are at a comfortable height so that children can do the gardening standing up, while the house pets cannot reach the plants. Several children can work at the table at the same time, so invite your friends to an afternoon of gardening. Appropriate gardening tools, including a rake and a scoop, complete the set!
Read less