EXIT Rebounders
The EXIT rebounders are multifunctional; they can be used in all sorts of sports. You use the rebounders to train all sorts of ball skills, such as passing, shooting, receiving, goalkeeping, throwing and heading. The EXIT rebounders are easy to take along and use at any location.
Continue reading Read less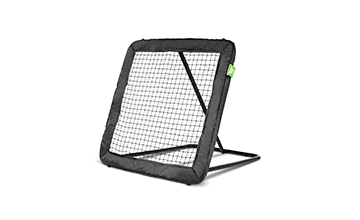 Let's play football!
For those who love playing football, the football rebounders are fantastic challenges. Train your technique for super-fast tiki-taka moves. Improve your playing skills, precision and receiving and turning with the ball, but at the same time, total coordination, action speed and automation of movements.
Multifunctional: suitable for every ball sport
The EXIT rebounders are multifunctional; can be used in various sports. Train your throwing and receiving/catching skills in volleyball, handball and waterpolo or beat your friends with a challenging game of tchouckball. By training with rebounders like the EXIT Tempo omni-trainer, you become faster, more dexterous and more precise!
Alternating sport trainings
For sport clubs, the rebounders are a nice variation during training. Challenge the members of a team to get the best of themselves or to use the EXIT rebounders in a creative play situation. That makes each training unique and the players – from goalkeepers to strikers – can improve their ball skills.
Make a choice
With the EXIT rebounders you have the choice between two different designs: the EXIT Kickback and the EXIT Tempo. The EXIT Kickback rebounders are of high quality and have a sleek black design. Or one that stands out? In that case the Tempo rebounder with a striking fresh green frame is the one to go for. The EXIT rebounder is a real eyecatcher in your garden, on the field or in a sports center!
Read less