Wooden outdoor kitchens
Little chefs can show off their skills with the Yummy wooden outdoor kitchens EXIT Toys. The outdoor kitchens have a unique design that has it all. Lovely cooking, baking and playing with water: with the EXIT wooden outdoor kitchens you will experience the greatest adventures.
Continue reading Read less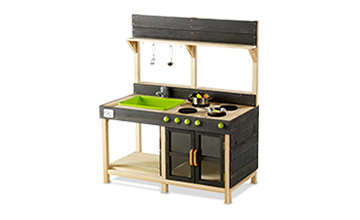 Cooking to your heart's content
The wooden outdoor kitchens from EXIT Toys all have a stove with turnable knobs, a removable sink and an actual working tap and storage space. Prepare the most delicious dishes using the included kitchen accessories or use the ingredients handed by nature, fill up your cup with water and bake the yummiest mud cakes in the oven of the outdoor kitchen. The EXIT wooden outdoor kitchens make it all possible.
Your own little market stall
Would you like to sell your own dishes? The EXIT Yummy 300 is not just a kitchen, but also a sturdy market stall, which you can use to prepare the tastiest recipes for your guests. Write the menu on the chalkboard and let your guests order under the green roof: time to get to work!
Durable outdoor kitchens
The EXIT Yummy outdoor kitchens are made of FSC® certified cedar wood (FSC 100%, FSC® SCS-COC-007799). This type of wood doesn't splinter and can withstand the effects of weather conditions such as rain which means it is also resistant against wood rot. So the wooden outdoor kitchen is safe to play with as soon as it has been put together.
Read less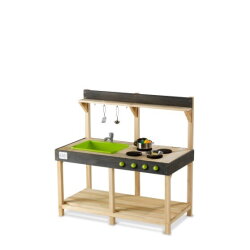 For the little chefs
Functional water tap
Including kitchen accessories

In stock, directly available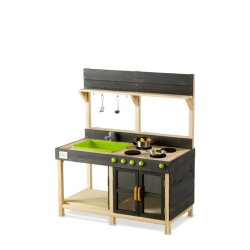 For the little chefs
Functional water tap
Including kitchen accessories

In stock, directly available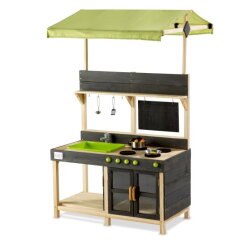 For the little chefs
Cool market stall look
Functional water tap

In stock, directly available