Sports
Blowing off steam in the backyard goes perfectly with the EXIT Toys sports products! From football and basketball to hockey, fitness and volleyball. EXIT Toys offers active outdoor entertainment for all ages. Whether you would like a serious training session or just want to play catch with your friends, with the sports products of EXIT Toys you won't easily get bored!
Continue reading Read less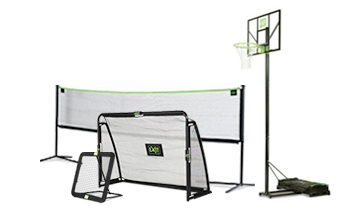 Time for your favourite workout
Bring the gym to your own backyard. With our EXIT GetSet units you can enjoy your favourite work out at every moment of the day. Strength, endurance, or fitness exercises: you can do it all! For loads of fun and challenge for sportive 14+ year-olds and adults.
Football practice in the backyard
Attention all football players! Organise your own football practice with the EXIT Toys rebounders, football goals and football accessories. With our football products you can practice anytime and anywhere, without having to depend on your teammates. Practice the coolest tricks while in the meantime you become a real athlete. That way you not only have loads of fun, but you also stay fit.
Everything for a challenging game of hockey
EXIT Toys has everything for hockey enthusiasts. Would you like to keep practicing during the summer and winter break? Improve your ball feeling with a hockey rebounder or challenge your friends for a game of hockey in the park with EXIT foldable hockey goals. And would you like to bring your hockey technique to the next level? With the panna goals of EXIT Toys you can play challenging games of panna hockey with your teammates.
Practice your basketball skills
Do you love basketball, and would you like to turn your backyard or driveway into a basketball field? At EXIT Toys you can find basketball backboards to mount on your wall which you can hang up in a second. Would you rather have a basketball pole to dribble around? At EXIT Toys you can find poles that can be mounted on the ground as well as a movable version. Let the games begin!
Sports with the whole family
The fun thing about the sports products of EXIT Toys is that you can use them to challenge your parents, brothers, and sisters for a game. That way, you stay fit while you get to know each other better. The EXIT adjustable sports net is even suitable for the entire family. Play badminton, tennis or volleyball with your nieces and nephews, aunts, and uncles. The multi sports net of EXIT Toys is the must-have for a fun family day!
Read less