EXIT Aksent wooden sandpits
There are endless ways you can play in a sandpit. From building sand castles to mud cakes and digging tunnels to searching for treasures, you really can't do without a sandpit in your garden. At EXIT Toys we have wooden sandpits in a variety of shapes and you will always be able to find the right one for your garden.
Continue reading Read less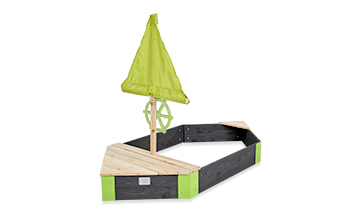 Your own play space
Create a unique little play space in your garden for your children where they can retreat into their own fantasy world for hours on end. Children will no doubt feel like a real captain or sailor in the boat shaped Aksent wooden sandpit. Do you have a little chef at home? Let him or her bake their own mud cakes in the sandpit with a real play kitchen. When playing in an EXIT sandpit, fun and play is guaranteed. So what are you waiting for?
A durable and sturdy sandpit
The Aksent sandpits from EXIT Toys are made of FSC® certified cedar wood (FSC 100%, FSC® SCS-COC-007799). This type of wood doesn't splinter and is naturally resistant against weather conditions such as rain which also makes it rot resistant. There is no need to give your EXIT wooden sandpits protective treatment before use, so children can play in them straight away. To make them extra sturdy, many Aksent wooden sandpits have supportive metal corners. The corners ensure stability and give the sandpits that unique EXIT touch.
Read less