EXIT round swimming pools
A nice refreshing swim on a hot Summer day? The round framed swimming pools from EXIT Toys allow for those much-needed cool downs in your very own garden! The swimming pools always come with a cartridge or sand filter pump and are available in different sizes and heights. Check out our selection of round framed swimming pools and experience great splashes of fun this summer.
Continue reading Read less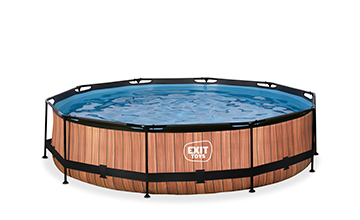 Unique swimming pools
Did you know that a swimming pool in your garden can actually look really good? The round EXIT Toys swimming pools are available in various stylish colours and prints. Do you choose a natural wood or stone pattern, or would you rather go for a grey or flashing lime green colour? Perhaps the swimming pool with a luxury leather print would be perfect for you! With the exclusive EXIT domes you can even have your very own indoor swimming pool and you can go for a swim whatever the weather!
Endless hours of fun in the pool
Are temperatures rising and would you love to throw a pool party in your garden? You will have a round swimming pool from EXIT Toys up and ready for a refreshing swim in no-time. Its sturdy frame and strong legs allow it to remain in place and because the frame is powder coated, rust doesn't stand a chance: so you can experience years of pool fun on end. The swimming pools from EXIT Toys are sturdy, durable and above all, so much fun!
Filter pump and other pool accessories
A filter pump is included with the EXIT Toys swimming pools. In addition, EXIT Toys offers several extra accessories for your pool, like (ground) covers and filter wadding for in the filter pumps. For the small round swimming pools we even have unique canopies available. What are you waiting for? With the framed swimming pools from EXIT Toys, you will experience the best summer!
Read less