EXIT Tiggy junior trampolines
Are you looking for a trampoline for small children and toddlers? The EXIT Tiggy junior is suitable for children between the ages of three to five years old and has a nice low step so that young children can easily get onto the trampoline. The trampoline is available with a bar as well as a safety net. In short: children can safely make their first jumps on the EXIT Tiggy junior trampoline.
Continue reading Read less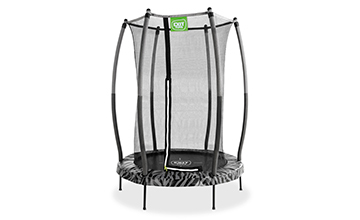 The greatest fun
The EXIT Tiggy junior trampoline has padding with a black and green or a black and grey tiger print which stands out and really attracts the attention of young children and toddlers. To let the little ones experience the greatest bounce adventures, the trampoline has elastics instead of springs. The elastics ensure a supple bounce to reduce the strain on their body. Bouncing fun guaranteed!
Safety first
With the Tiggy junior trampoline you can be certain that your little one has a safe trampoline to jump on. The soft padding covers the elastics completely and whether it is the trampoline with a bar for extra stability or one with a safety net and zipper, there will always be a version to suit you best of all.
And jump!
The Tiggy junior is so compact, that it fits in every type of garden and also inside your home. When the weather is not so nice, you can simply move the trampoline inside, so that young children and toddlers can enjoy trampoline jumping fun all year long. And now the time has finally come to show off the very first trampoline jumps to everyone.
Read less