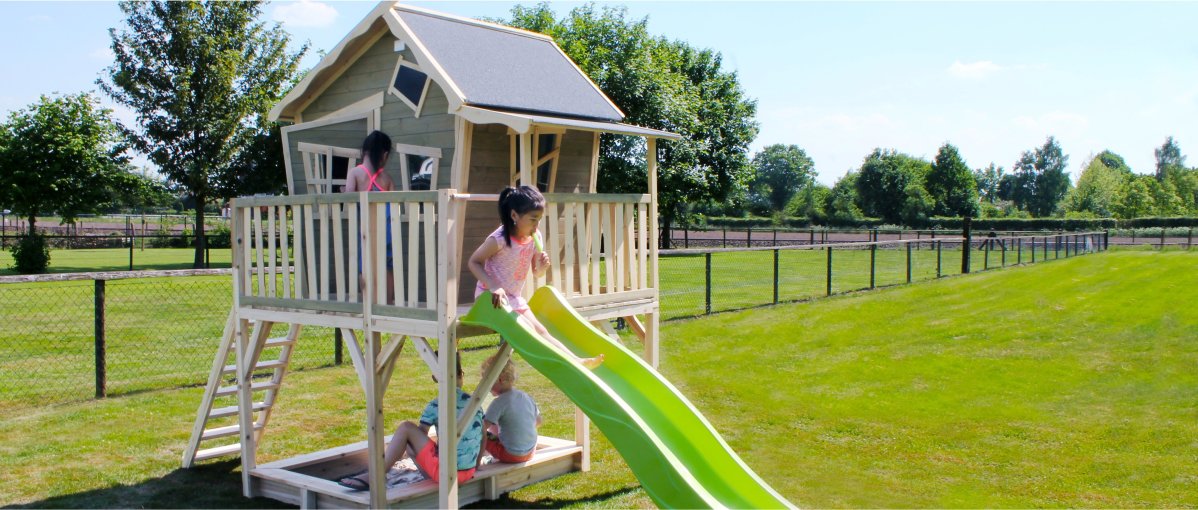 From playhouse to playparadise
The EXIT wooden playhouses are not just fun garden playhouses for the children, but create an actual paradise! Children leave their little house using a slide and flow directly towards the children's picnic table to grab a drink, then quickly run off to play in the sandbox and hurry along to the sand and water table to play with water in lovely, sunny weather.
Use our EXIT playhouses to create the most amazing playgrounds for your children, imagine that, in your own backyard! But how?
Children's play palace
The larger models of our Fantasia, Loft and Crooky houses can stand on a platform to which the slide can be attached. The Loft and Crooky houses from EXIT Toys are also available in other designs with a sandbox underneath and a handy extension or a nice veranda as extra options. So, you can order a playhouse in a size to suit you. How about a birdhouse or cute little flower boxes to make your palace even more fun and fancy!
Extending playhouse
Do you already own a playhouse but would like to expand after reading this blog? You can order separate extensions, verandas and frames, making it easy to upgrade your playhouse. Very useful for when a new little family member has been welcomed into your family or for when the neighbourhood children have discovered the fun playhouse in your garden.
Mix and match!
You can also create a larger playground by using other EXIT products and placing them around the playhouse. How about the EXIT picnic set and children's stools, the EXIT sand- and water table, the EXIT planter tables, an EXIT sandpit, or an EXIT Yummy wooden outdoor kitchen. This is how you can create a real play paradise for endless hours of fun and play.
Children enjoying good times in their own unique EXIT wooden playhouses, they wouldn't want to any other way! View our collection of playhouses and matching accessories here.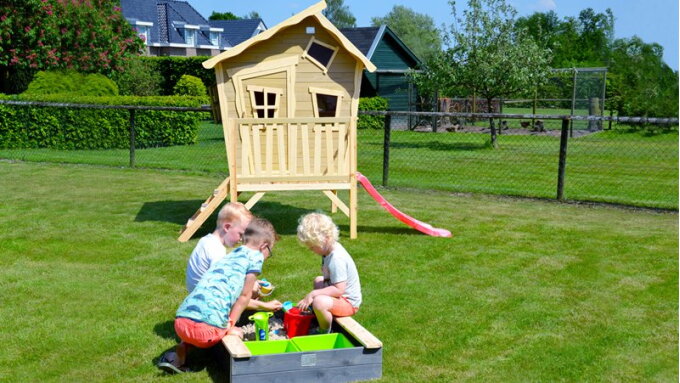 More information? Call, mail or chat with us!
Do you have additional questions about our playhouses? Let us know and we will be pleased to provide you with personal advice. Contact us via chat, call +31 314 - 796 020 or send an email to info@exittoys.com. We will contact you within 24 hours!
Written by: Jennifer