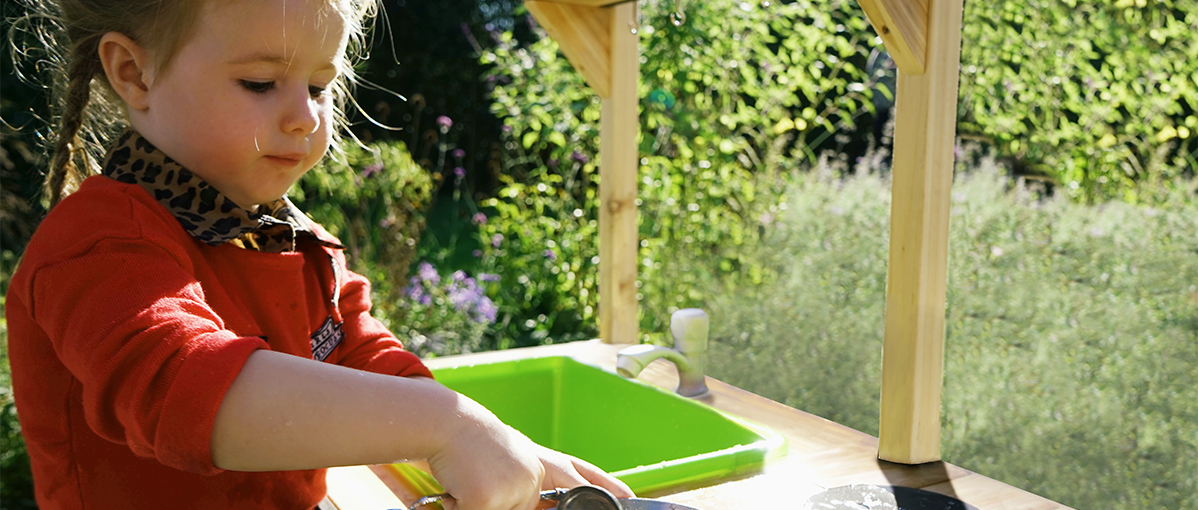 Fun and cooking in the play kitchen for outside
Are you a true little chef? Then roll up your sleeves, because with Yummy outdoor kitchens from EXIT Toys you can show off your baking skills and that out in the open air! The included kitchen accessories like the stove with turnable knobs and a real working tap will keep you nice and busy. Would you like to know all about these sturdy outdoor kitchens? Let's find out together with EXIT:
Chef in your own kitchen
Use the stove and the oven of the Yummy outdoor kitchen to whip up the tastiest dishes. Make fried eggs, steam some vegetables or roast a chicken: it is all possible with the fun kitchen accessories from EXIT Toys. But even more fun is collecting the ingredients straight from nature to use in your Yummy outdoor kitchen.
Take a good look around your garden and gather anything you might be able to use, from sand and twigs to leaves and acorns in autumn. Make a delicious little mess when preparing creative biscuits and mud cakes using all the different ingredients. Because making a mess is exactly what makes the yummy outdoor kitchens so much fun: outside you are allowed to be nice and messy, so don't hold back!
Yummy outdoor kitchens: a splashing party
The Yummy outdoor play kitchen really comes alive when you attach a garden hose to the tap: you see, the tap actually works! Turn the tap to activate the water flow and then close it again when you have enough water. This allows you to make a cup of tea, wash your vegetables, make some soup and when you have finished eating you can even use the water to do the dishes. With this real tap the possibilities are endless and it turns playing with the outdoor kitchen from EXIT Toys into a splashing party.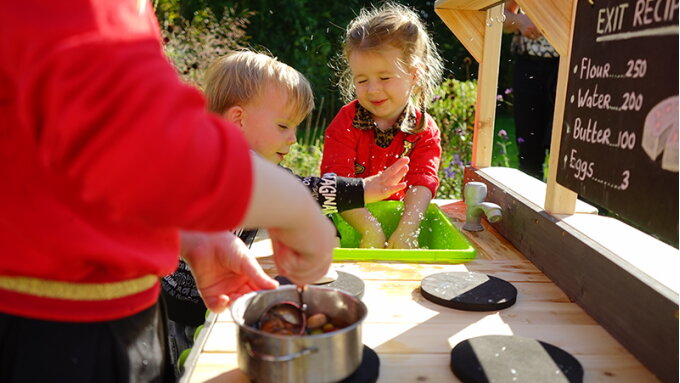 Your restaurant or market stall
Have you had enough practice with cooking and baking? Then it is time to actually start selling the dishes you have made! Turn your garden into a real restaurant and cook for your guests. With the EXIT Yummy 300 wooden outdoor kitchen you will be well prepared: this outdoor kitchen has a stylish little roof which makes it feel like a proper market stall. Write the menu on the included chalkboard and hang it up in your Yummy 300 outdoor kitchen to make it just like a real market stall. When everything is baked, roasted and cooked, you can start selling it all. Who wants to try something yummy?
Make your outdoor kitchen unique!
And how much fun would it be to style this unique outdoor play kitchen completely to your own taste? Add a touch of you to the included kitchen accessories from EXIT Toys by using the many shelves to store your own things: colourful flags, cups and saucers, little herb pots and plants will be like the icing on the cake. Or do you have an even better idea? With a bit of input from EXIT and a bit of input from yourself you will turn your very own Yummy into the greatest and the most unique outdoor kitchen around!
So just put on your apron and chef's hat and bake away! The Yummy wooden outdoor kitchen from EXIT will provide you with endless hours of fun and play.
More information? Call, email or chat with us!
Do you have any questions regarding our wooden outdoor kitchens? Please let us know! Contact us via chat, call us at +31 314 - 796 020 or email us at info@exittoys.com. We will be jumping with joy to help you!
Written by: Joris