Playing outside in a small garden with EXIT Toys
Do you have only have a small garden, but would you still like your children to have fun playing outside? The outdoor toys from EXIT Toys make that possible! You see, EXIT makes outdoor toys for every kind of garden, even for small gardens. Here you can read about how children can also experience great fun in a smaller garden with the handy toys from EXIT toys and at the same time also actually saving space:
Sand and waters toys
Kids love to play with sand, water and other things they engage with nature. That is exactly why the sand- and water tables, sandpits and wooden outdoor kitchens from EXIT Toys are so much fun to have in your garden. And they are available in different sizes, so that they don't necessarily have to take up a lot of space. For those hot summer days, the EXIT Sprinqle water play tiles are ideal. These compact tiles with little water fountains can be arranged into any pattern of your choice and are also easy to store away again.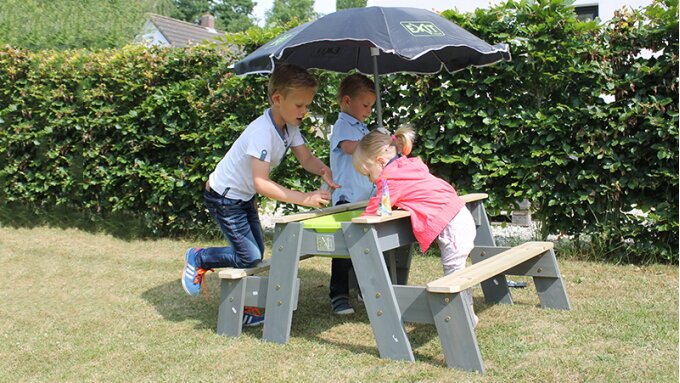 The EXIT sand and water tables can be covered with the included lid, which turns them into a table for your children. Ideal for playing on and being creative or for using to chill a little and enjoying a snack. The EXIT sand- and water table is really cool for fun and play, but also makes a handy table, all in one. That's what we mean by saving space!
Playful planting
The EXIT planter tables are also available in different sizes which makes them suitable for all types of garden, even for on a balcony. Discover the wonders of nature together with your child: planting the prettiest flowers and tastiest vegetables in the planter tables and watch them grow together slowly but surely. Do you not have sufficient space in your garden for your own plants? A planter table from EXIT Toys is a fun outdoor toy for the kids, but also acts as a lovely plant pot for yourself! Because you see: happiness can grow even in the smallest of spaces.
A playhouse or trampoline in your small garden? It is possible!
Do your children's friends have fun playhouses or cool trampolines in their garden and would your kids really like that too? With EXIT Toys it is possible! The playhouses are available in a variety of shapes in sizes to suit both larger and smaller gardens. Our trampolines also come in smaller sizes, so that your children can enjoy endless hours of jumping joy even in a small garden.
The Tiggy junior trampoline for example is perfectly suitable for small gardens! It is great for little children to play with all year round. You see, the Tiggy can be placed both inside and outside. When you need extra space in your garden or on your terrace, you can easily just move the Tiggy inside the house.
Out and about
And what if you don't have a garden at all? No worries: you can always ride go-karts and trikers! Search for a quiet area around your home so that the children can race around for hours. And how about playing football? The EXIT Pico and Flexx football goals are flexible, can be folded up and are nice and light: kids can therefore easily take them along to a local football field. Also the EXIT multi-sport net is simple to carry and can be used for many types of sport. The outdoor toys from EXIT Toys allow you to play outside always and everywhere!
More information? Call, email or chat with us!
Do you have any questions regarding our outdoor toys and about what is suitable for your garden? Please let us know! Contact us via chat, call us at +31 314 - 796 020 or email us at info@exittoys.com. We will be jumping with joy to help you!
Written by: Laura