Fun and educational: a vegetable garden for children
Is gardening a real passion for you, but you can't seem to get your kids interested in it at all? The EXIT Aksent planter tables are wonderful for cultivating plants, herbs and vegetables together. The following tips are for convincing even the toughest kids to get their fingers dirty in a planter:
Gardening: learning by doing
Children are very curious by nature. Also while simply tending to a garden, they come across unfamiliar things. It is your task to teach them everything you know. And what's the best way if not with a planter table? This is not only fun, but it makes children more aware of nature. Have them discover that vegetables do not come from a factory and above all – teach your children all about the beauty of nature!
Sprouting fun with the greenhouse
In order not to push the limits of children's patience too far, choose seeds that are easy to plant and that grow quickly in the planter table, with or without a greenhouse. Ideal vegetables for planting are lettuce, onions, beets and radishes. Children will also love to plant vegetables that you can eat immediately after they grow. They are amazed when they eat carrots, cucumbers or tomatoes straight from the garden. Of course, do wash them well beforehand! For the sake of variety, it is nice to utilise various colours and plant types. For example, colourful flowers are really nice to cultivate. And if the seeds grow too slowly, then also plant a few mature plants in bare spaces. That keeps the planter table lively and the kids continue to be busy.
They're the boss
Furthermore, let the kids do as much as possible by themselves. It is really nice to hear children say that they have cultivated the plants themselves. Thus, seeding, potting, raking and watering; have your children work vigorously on their gardening. If all goes well, they will soon proudly tell all their friends and family about their own cultivated creations in the planter tables.
Get to work with your own garden tools
With the EXIT Aksent planter tables, kids have a table that suits their size. The planter table was developed specifically for children and with the EXIT kids gardening tools, they have their own shovel, rake and spade. Is it time to put the spotlight on gardening with your kids? We believe it is! View our selection of Aksent planter tables.
More information? Call, mail or chat with us!
Do you have additional questions about the EXIT planter tables? Let us know and we will be pleased to provide you with personal advice. Contact us via chat, call +31 314 - 796 020 or send an email to info@exittoys.com. We will contact you within 24 hours!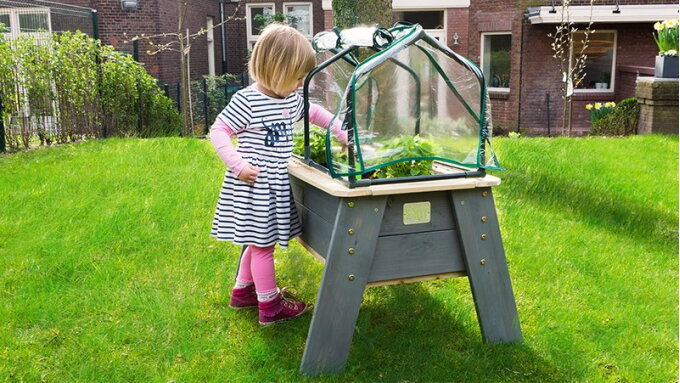 Written by: Jennifer