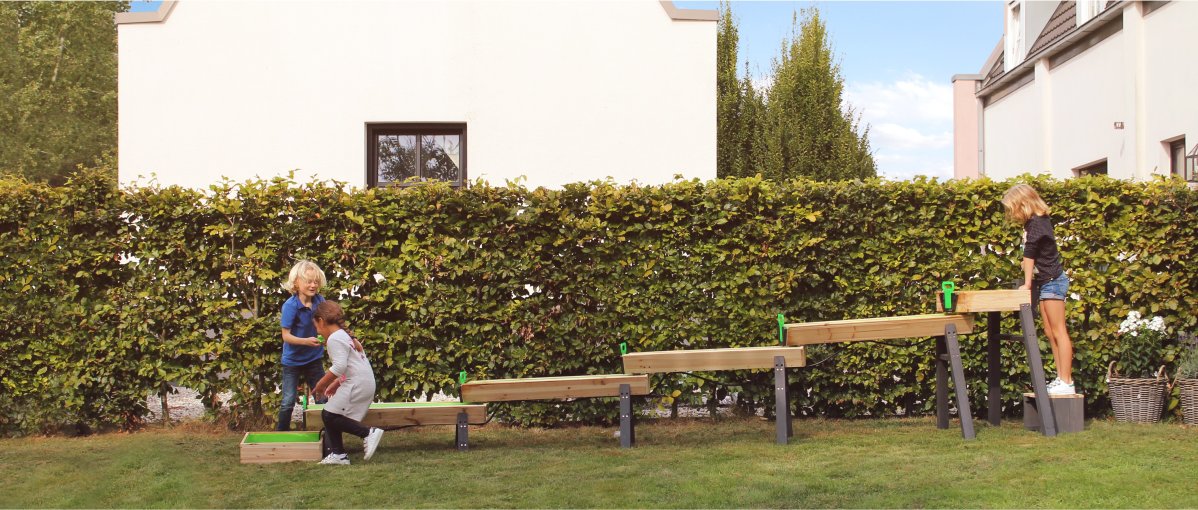 Which quality labels and norms does EXIT outdoor toys meet?
It is great to have outdoor toys like trampolines, wooden playhouses, swings or a water play set in your garden. At the same time it is also important for the toys to be safe when they are being used by children, so that even during their wildest adventures they can have carefree fun. This is why the EXIT toys have been tested on safety and carry the necessary quality labels.
The main quality labels for our products are: EN-71, GS and the CE-marking. Many of our wooden products also carry the FSC quality label. But what exactly is a quality label? EXIT Toys explains:
Testing inspections like TÜV and Intertek
According to the law sales people selling toys are obligated to get the toys tested by an authority qualified to perform the necessary inspections, grant certificates of conformance, apply the conformance labels and issue reports of conformance based on safety. TUV and Intertek are such authorities. When a product carries the TÜV mark, then you know that the product has been thoroughly tested on safety by a renowned and legitimate testing institute. This means that the product meets the TÜV or Intertek valid safety requirements and you can rely on the safety and quality of the product.
EN (European Norms)
European Norms are safety requirements which products such as toys need to meet. The European Norms of our outdoor toys are tested by official testing authorities such as TÜV and Intertek. You will receive the quality label when your product meets these safety requirements. You can only receive one from an external testing organisation.
Did you come across a product with a quality label? Then you know instantly that an independent testing institute has approved the product according to the safety norms and it is safe to play with. The European Norms have been translated into dutch, which is why they are called NEN (Netherlands Norms). Also, you will often find a number after the norm, for instance EN 71. This number makes it easier for you to find out which kind of norm it is. Our outdoor toys often have EN 71 on them, because this norm represents the safety of toys.
GS (Geprüfte Sichterheit)
The Geprüfte Sicherheit is an extra (voluntary) certificate and means that the product meets the German safety norm. The GS often focuses on the same norms as the European Norms. This is why the products with a GS-certificate also often meet the standards of the European safety requirements. Like the European Norms, the Geprüfte Sichterheit is also tested by TÜV or Intertek.
CE
With the CE marking the manufacturer declares that he is solely responsible for his product and that it measures up to all the essential requirements of the relevant EU guideline(s). A CE mark is not a safety norm, like the toys norm EN 71. The CE marking on our products declares that the outdoor toys meet the important requirements of the EU guidelines that are applicable to us. All our products are designed and produced according to legal requirements concerning safety, health and the environment within Europe. Because the product is in compliance with European legislation, it may also be sold in Europe.
FSC
The FSC label is only used for products made of wood. It has nothing to do with safety. It is a quality label which declares that the products made of wood originate from a forest that is managed according to the international FCS standards and promotes sustainable forestry. An organisation has to carry the FCS label when it uses wood from an FSC forest. EXIT toys is such a certified FSC organisation and this is their way of contributing to sustainable forest management.
A FSC forest is managed with the focus on sustainability. According to FSC, a well managed forest is one where social aspects, nature care and economic interests are in balance. The regulations for FSC forestry have to be obeyed and are stated in the Forest Management Certification. Every organisation involved in the process needs to have an independent FSC certification. From the certified forest or reclamation site to the organisation selling it with an FSC claim.
More information? Call, mail or chat with us!
Do you have additional questions about our quality labels and norms? Let us know and we will be pleased to provide you with personal advice. Contact us via chat, call +31 314 - 796 020 or send an email to info@exittoys.com. We will contact you within 24 hours!
Written by: Laura