Why play outside?
EXIT Toys stimulates children to play outside. Jump on the trampoline, go down the slide, race on a go-kart and dig a hole in the sand pit: children often have a lot of fun playing in the garden. But also, playing outside is really healthy! EXIT makes a list with all the advantages of playing outside.
Discover the world around you
Outside there is so much more to discover than when gaming or watching television. The different kinds of weather and change of seasons allow children to rediscover their surroundings each and every day.
See the bugs fly, smell the flowers and feel the nice, refreshing breeze in your face. Outside all the senses are fully switched on. And did you know that they will develop their sight better when playing outside? They learn from an early age to observe objects in the distance and to add to that, their eyes become adjusted to natural light.
Playing outside means personal development
Children build muscles without actually being aware of it. Climbing up and down a play house or practicing a slam dunk with a basketball system allows them to master fine motor movements and for improving balance, trampoline jumping is of course the perfect activity. How hard should you throw the ball or when do you need to brake on your triker to avoid a collision? A fun way to learn how to judge distance while playing outside.
Also children who play outside are very creative: they will make up new games and rules and come up with the greatest stories. Let your fantasy run wild!
Playing together and sharing together
Outdoor toys from EXIT are most fun to use together, which makes them very suitable for developing children's social skills. When playing a game of football they need to team up, but also compete against each other. It is important that they learn how to solve discussions and to be patient: like who is allowed to go on the trampoline first?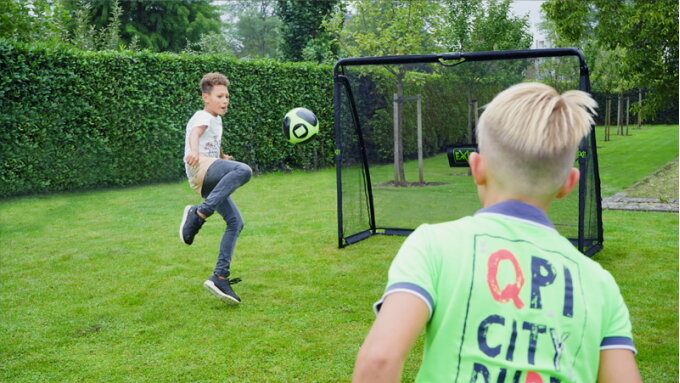 Nice and fit
When children are outside, they get vitamin D. The vitamin D gives them stronger bones and muscles and improves their immune system, so that they won't get sick easily: so playing outside is really healthy! And did your children get dirty from playing outside? All it takes is a nice bath.
Checking the weather conditions is also important. Put sunscreen on when the sun is out and choose clothing for them to suit the weather. This way they can play outside safely without any problems.
Relax in the outside air
Even when it looks like there is plenty of action going on outside, it is actually all about relaxing. The outside air and nature allows you to feel calm. By letting children being nice and active, they will feel less stress. And after a day of fun and play outside, they will sleep like a baby!
More information? Call, email or chat with us!
Do you have questions about our outdoor toys? Please let us know! Contact us via chat, call us at +31 314 - 796 020 or email us at info@exittoys.com. We will contact you within 24 hours!
Written by: Iris