EXIT Silhouette trampolines
De EXIT Silhouette trampoline is a modern trampoline that fits perfectly in your garden. The trampoline series consists of both dug-in trampolines and trampolines on legs of various sizes. The trampoline frame is galvanised and powder-coated for a long lifespan. The trampolines look elegantly thanks to their matte-black colour with green highlights. In short: a beautiful trampoline that gives you years of jumping pleasure!
Continue reading Read less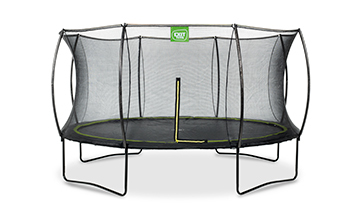 Silhouette trampoline on legs
The Silhouette trampolines on legs have a modern look and always come with a sturdy safety net, including a zipper. The safety net has curved supports that are protected by foam. The net is stretched tightly so that children cannot get stuck in the safety net.
Silhouette ground level trampoline
Are you looking for a trampoline, but not one that's not intrusive in your garden? A good option is the Silhouette ground-level trampolines. Without the need to climb into the trampoline, the ground-level models are accessible for younger kids and they too are available with a safety net.
Super cool trampoline accessories
There are all sorts of accessories available for our trampolines. Make trampoline jumping even more fun with the EXIT trampoline basket on the safety net or protect your trampoline with a weather cover for a longer lifespan. View all our trampoline accessories and covers for more information.
Read less