EXIT trampoline accessories
Have you purchased an EXIT Toys trampoline and you're now looking for safe, practical or simply nice trampoline accessories? From trampoline basket to trampoline anchor set and a trampoline ladder with platform, EXIT Toys has it all!
Continue reading Read less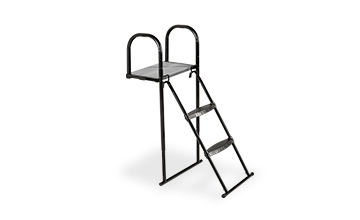 Easy and safe step
With an EXIT trampoline ladder you can now climb onto trampoline without a lot of effort. The ladders can be hung on the frame of the trampoline to avoid having to take a high step. And to make it even easier? Choose the trampoline ladder with platform. The platform is extra wide and is therefore easy to stand on before you climb through the entrance of safety net. The trampoline ladders and platforms are available in various sizes to fit trampolines of all dimensions.
Super sporty!
Trampoline jumping is obviously a sporty activity, but with the EXIT trampoline basket, it's even more of a sport. Use the mini foam ball to play nice ball games, both on the trampoline and from the ground.
Better safe than sorry
Convenient to have: an EXIT trampoline anchor set. The anchor set consists of four anchors and four ties to secure the trampoline to the ground. This makes the trampoline sit more firmly in heavy winds and it reduces the chance of the trampoline sliding during the wildest jumps.
Read less