Cooking with whatever nature has to offer in an outdoor play kitchen
Do you already have a play kitchen for outside? Being outside in the fresh air is not just fun, but you can also collect all sorts of ingredients straight from nature to play and cook with. Let your fantasy run wild with sand, leaves, flowers or in autumn for example with acorns and make the most delicious meals. Could you use some inspiration? With the following five recipes from EXIT Toys you will cook like a star:
Please note: however yummy these dishes may look, they are not suitable for consumption!
Seasonal soup
Cookware
- Pan
- Large stirring spoon

Ingredients
- Six cups of water
- Handful of leaves, acorns, walnuts and flowers
- Pinch of sand

Preparation
Gather the ingredients for your seasonal soup before you get started. Let the season inspire you. In autumn for example you could add nicely coloured leaves, acorns and walnuts. And in spring, you could make a bright and colourful soup using flowers from your own garden. Fill the pan with water and add all the ingredients. Place the pan on the stove and stir away! To finish it off, add a pinch of sand.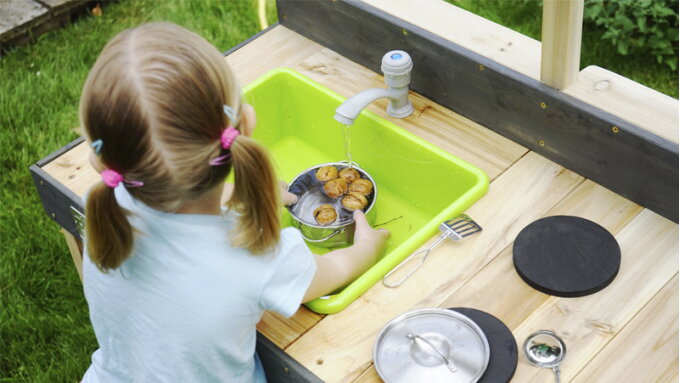 Rich salad
Cookware
- Bowl
- Large spoon

Ingredients
- Half a bowl of leaves
- Cup of grass
- Cup of moss
- Pieces of bark
- Handful of flowers
- For the dressing: half a cup of sand and a few drops of water

Preparation
Place all the leaves in a bowl. Make small pieces of grass and mix it with the moss, the bark and the leaves. Add the flowers to make the salad lovely and colourful. Serve with a nice homemade dressing of mud and voilà: your rich salad is ready.
Colourful pizza
Cookware
- Bowl
- Hand mixer
- A rolling pin
- A kitchen timer

Ingredients
- Four cups of sand
- Cup of water
- Handful of leaves, flowers, corn and grass

Preparation
Mix sand and water with a mixer in a bowl until it has turned into dough. Knead the dough and use the rolling pin to flatten it into a thick round base, just like a real pizza maker. Now the decorating can start: be creative with the toppings of leaves, flowers, corn or grass and place the pizza in the oven. Use the timer to help you with the baking time. And when the timer goes off? Then it's time to admire your masterpiece!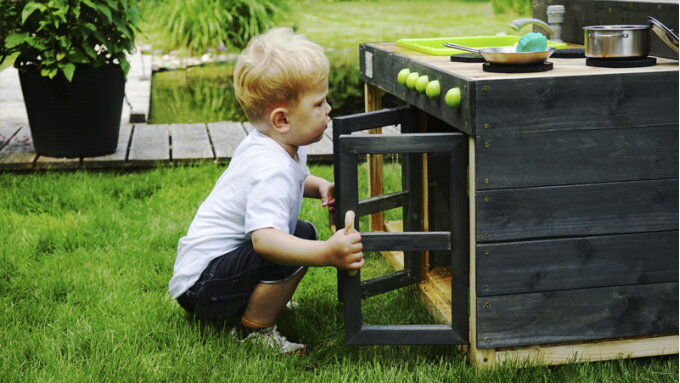 Happy hamburgers
Cookware
- Bowl
- Hand mixer
- Spatula
- Pan

Ingredients
- Three cups of sand
- Cup of water
- Handful of grass

Preparations
Are you crazy about homemade sandburgers? Mix sand and water together in a bowl. Cut the grass into small pieces and add them as herbs to the mixture. Knead the dough into the shape of sand burgers with your hands and use the spatula to flatten them. And would you like to cook like a real chef on your play stove? Pretend that a few water droplets in the pan will prevent the burgers from burning and don't forget to flip them over!
Creatieve cupcakes
Cookware
- Cupcake tins
- Kitchen timer
- Strainer

Ingredients
- Handful of acorns, flowers and leaves
- Sand

Preparation
You can also bake cupcakes with ingredients straight from nature. To do so, fill your cupcake tin with acorns, leaves or mud. Bake them in the play oven until the timer goes off. Ring! Time to decorate the cupcakes with the prettiest flowers. Extra fun: use the strainer to decorate the cupcakes with fine white sand to make them look even more real. But watch out not to make them too pretty, as you will want to eat them!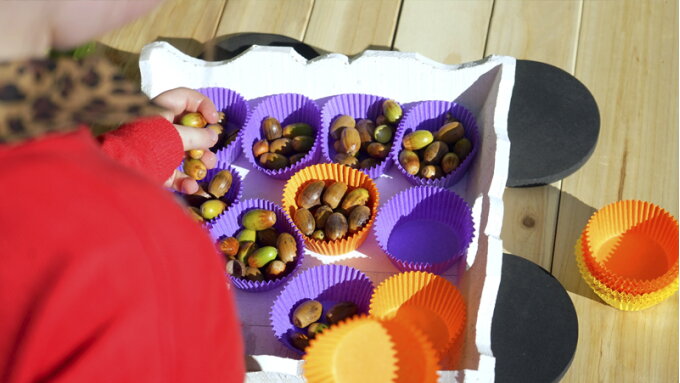 Yummy outdoor kitchens: cooking fun in the outside fresh air
Have you not yet got an outdoor play kitchen, but do you also really feel like grabbing your chef's hat after reading this blog? Order one of our Yummy outdoor kitchens to experience hours of fun and cooking in your very own garden. Which ingredients can you find in your garden?
More information? Call, email or chat with us!
Do you still have additional questions concerning our wooden outdoor kitchens? Or would you like to share a nice recipe with us? Please let us know! Contact us via chat, call +31 314 - 796 020 or email us at info@exittoys.com. We will get back to you within 24 hours.
Written by: Geke