EXIT Toys has the most fun water play toys!
Playing with water outside in the fresh air: children absolutely love it! Water allows for hours of fun and play and cools you down on those hot summer days. Are you looking for great water play toys? EXIT Toys has a large selection of toys with water: like fountains, water taps, water tracks and swimming pools. In this blog we will introduce you to the most fun water toys.
Latest addition: Sprinqle water play tiles
Do you still remember them? The fountains on public squares which you are naturally drawn to on those sunny days? The unexpected water sprays challenge you to run, dance and jump through them or maybe to try and avoid them in order to stay dry. With the arrival of the Sprinqle water play tiles from EXIT Toys you can take this exciting water fun and play to your very own backyard. Extra cool is that you are in control of how the water sprays will squirt up: with the included foot controller or the special Sprinqle app, you can choose the game you feel like playing!

Surprise your friends with some unexpected water sprays and experience splashing fun and play in your own garden with the EXIT Sprinqle water play tiles.
Magical water tracks
Experience a completely different way of water play with the Aquaflow water track. This water track teaches you how to let water stream down from a high level to a lower one and how to stimulate or stop it. The water track can be set up in different ways (straight, in a bend, or zigzagged), so you are in full control of your own river! Change the locks and let the toy boats flow downstream.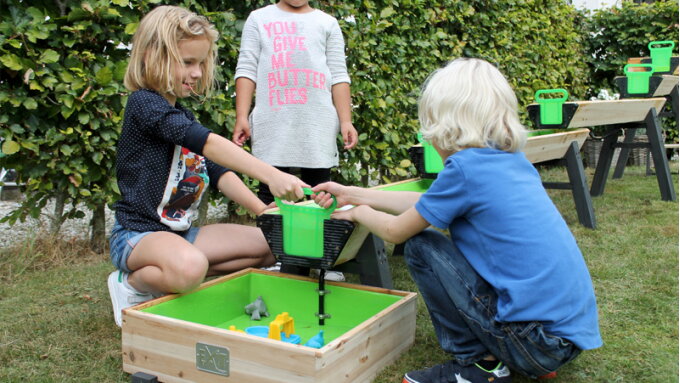 The EXIT AquaFlow water track is a dynamic water track with which you can play alone or together: so, one person can pump up the water and someone else can operate the locks. Now that's teamwork!
Splashing outdoor kitchens
Water is also fun to use for role play. The Yummy outdoor kitchen and the sandpit with kitchen from EXIT Toys make you feel like you are in a real kitchen. You see, both kitchens have an actual working tap, which allow you to make the best mud soup, wash your hands and even do the dishes. Which games with water can you think of to play in your own play kitchen? Let the water fun and games begin!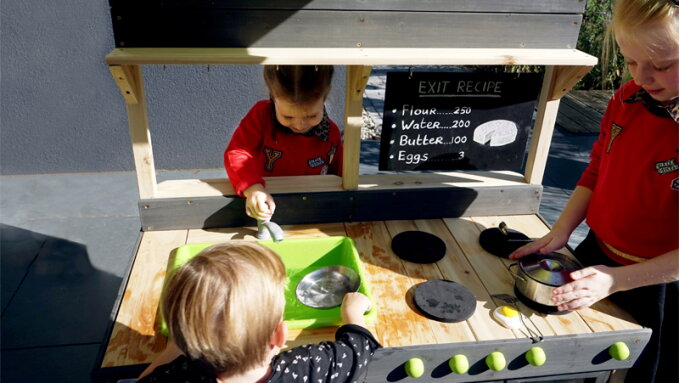 Unique sand and water tables
Come up with the greatest water games with the sand and water tables from EXIT Toys. Will you create your own underwater world and maybe use the water bins for (candy) fishing? Fill up the bins with water, sand or other fun materials. The combination of water with all kinds of different materials turns outdoor play into one big party! Let your imagination run wild with our sand and water tables.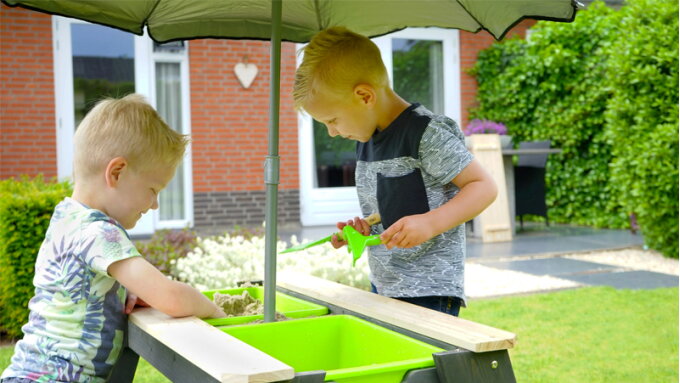 The nicest swimming pools
Real water fanatics will enjoy an entire summer of fun and swimming in our swimming pools. In the swimming pools from EXIT Toys you can play endless water games. Improve your swimming skills, play a ball game in the water or just relax and float about on an air matrass. And do you love the water so much that you even want to go swimming in it when the weather isn't that nice? Then use a dome to expand the swimming season in your very own indoor pool! With the addition of a heat pump you can make the temperature of the water even more pleasant. For the best fun and water play go for an EXIT Toys swimming pool.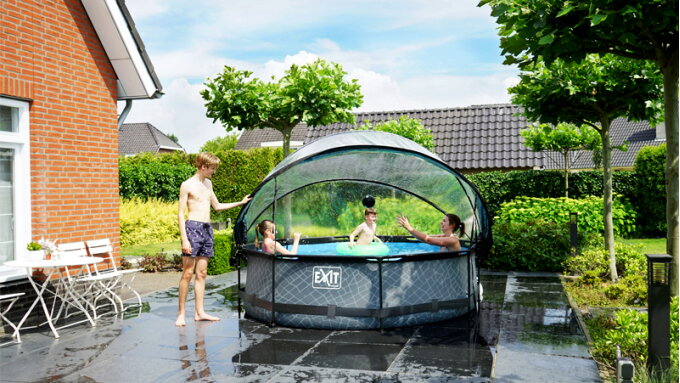 You will no longer need to leave the house in search for that much needed fun and water play with outdoor EXIT Toys and they will prepare you for the lovely weather. Put on your swimming gear, grab your sunglasses and enjoy!
More information? Call, email or chat with us!
Do you have additional questions about our water toys? Please let us know! Contact us via chat, call +31 314 - 796 020 or email us at info@exittoys.com. We will get back to you within 24 hours.
Written by: Geke