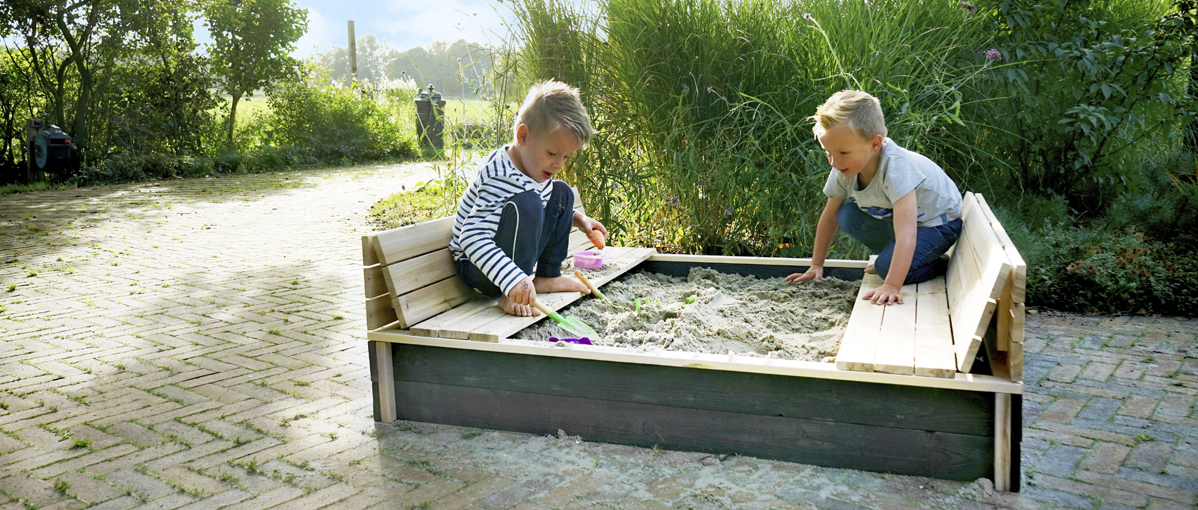 Six fun and play ideas for in your sandpit
What can possibly be more fun than playing with water and sand? Whether you are an animal lover, a cool pirate or a real little chef: in a sandpit you will experience the most exciting adventures. Check out the six play ideas from EXIT Toys for non-stop fun and play.
Super speedy rally racers
Vroom-vroom! The sandpit is the place to have the most awesome rally races with your toy cars. Race just like the Dakar-rally right through the entire desert. Create roads, slopes and tunnels with the sand and let your toy cars race through your sandpit.
Cool pirates
Are you ready to start searching for that hidden treasure like a real pirate? Ask someone to hide a treasure in the sand and make a treasure map. Grab a little shovel and brushes, look closely at the map and start digging in the sand to find your treasure. The EXIT sandpit in boat shape brings out the pirate in you! Put on your eye patch and sail way.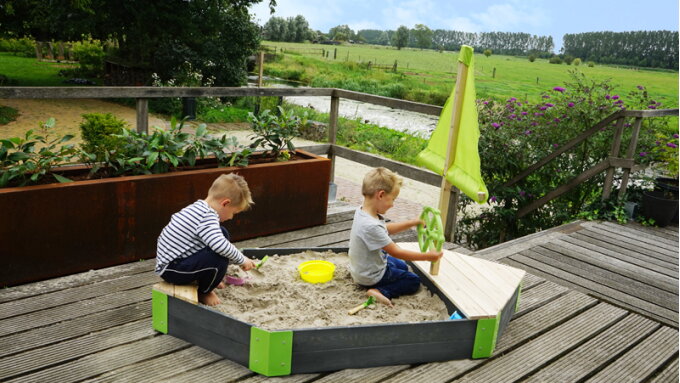 EXIT Tip: To make a treasure map look even more real tear off the tips of a white sheet of paper and rub a wet tea bag all over it. This will give your treasure map a dark brown colour to make it look ancient.
Animal lovers
Take your animal toys outside and turn your sandpit into one big zoo. Make a mud pool for the wild pigs for example and add twigs and leaves for the giraffe. Use natural materials such a pebbles and little branches to build a fence. Don't forget to place water in a bowl for all the thirsty animals!
Little chefs
You can use ingredients such as sand and water to whip up the most delicious treats. Let your imagination run wild with sand moulds, cupcake tins and all sorts of other kitchen accessories. And how much fun would it be to sell your own homemade treats like sand cakes or mud ice creams in your own little shop? The EXIT sandpit with kitchen and accessories is ideal for tiny chefs. The play sink with turnable knobs and an actual functioning tap is just like a real kitchen.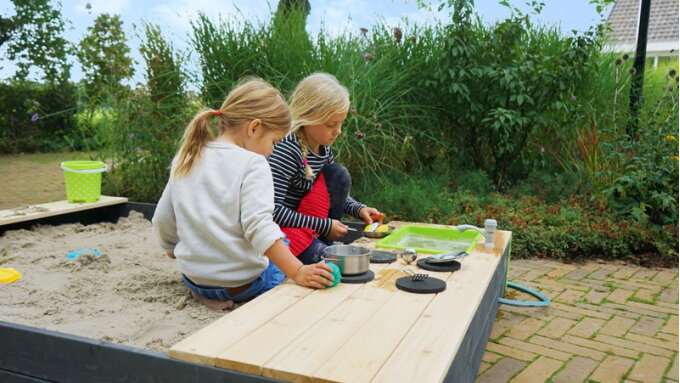 Knights and princesses
A sandpit brings the middle ages to your very own backyard: Time to build the coolest sandcastles. Fill up buckets and sand moulds to make the most amazing buildings in the sand. And do you want to add a touch of royalty? Place gates, windows and towers and dig a canal around the sandcastle for extra water fun. Now all you have to do is raise the flag!
Water rats
Do you want to learn all about water? The possibilities of working with water in a sandpit are endless: dig long trenches, build ponds and dams and let boats sail on your handmade rivers. You can also use tubes for a water drainage system. Place them in the ground, let the outer ends stick out above the sand and discover how the water underneath the ground moves. Try it and experience the magic of water.
The EXIT sandpit with kitchen has a real functioning tap so that you will always have water within reach. Or will you go for the EXIT sandpit with removable bins? You can fill up the green containers with as much water as you like, allowing you to mess about with mud for hours on end.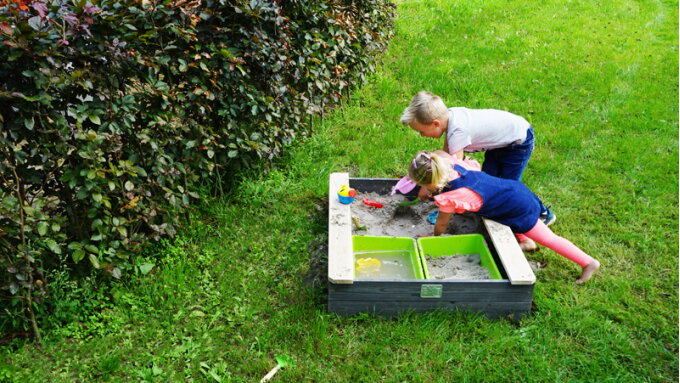 Sandpits in all shapes and sizes
EXIT Toys has wooden sandpits with unique details. We have thought of everything: comfortable seating, looks and of course loads of fun and play. Will you choose the sandpit with water bins or will you go for the unique boat shaped sandpit? And which play idea makes you smile most? Let us know!
More information? Call, email or chat with us!
Do you still have additional questions about our sandpits? Please let us know! Contact us via chat, call +31 314 - 796 020 or email us at info@exittoys.com. We will get back to you within 24 hours.
Written by: Iris