EXIT water play tiles
Experience the best fun and water play in your very own garden with the Sprinqle water play tiles from EXIT Toys, an interactive and modular tile floor with incorporated little water fountains. The Sprinqle is a real SMART toy: with the Sprinqle app you can activate different games using your smartphone or tablet. Run through the water sprays, try to avoid them or chase them: the EXIT Sprinqle really challenges you!
Continue reading Read less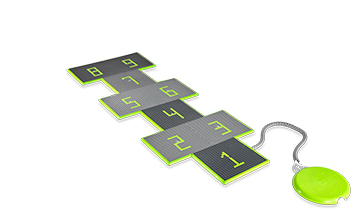 Plug and play!
The EXIT Sprinqle water play tiles are very easy to arrange in different shapes and sizes. You can choose to place them in a square, but also in the popular hopscotch path for example. The EXIT Sprinqle 3x3 is suitable for every type of backyard, whereas the set of 5x5 play tiles is also excellent to use at schools and kindergartens. Children are free to decorate the tiles any way they like: from numbers for the hopscotch path to all kinds of fun figures. Is the Sprinqle in position for use? Connect the hose to the tap, the plug into socket and you are instantly set for some water splashing fun.
Endless possibilities
The Sprinqle water play tiles are activated by a control box with a mini computer and can be operated by foot as well as with the Sprinqle app. Simply tap on the box with your foot and let one of the three unique water games surprise you. For even more game options download the Sprinqle app for iOS and Android, which is connected to the control box via bluetooth. In the app you will find various options for operating the Sprinqle yourself. With the interactive Sprinqle water play tiles from EXIT Toys children will have the most awesome splashing summer!
Read less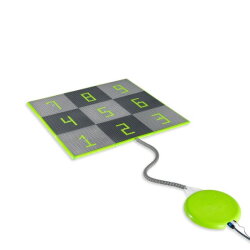 Interactive water play toys
To operate with Sprinqle app and feet controller
Water spray squirts up to 3 meters high

In stock, directly available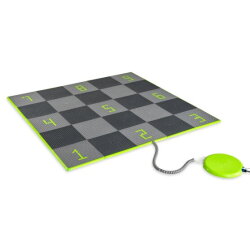 Interactive water play toys
To operate with Sprinqle app and feet controller
Water spray squirts up to 3 meters high

In stock, directly available