EXIT GetSet play units
With the EXIT GetSet play units, you choose a high-quality play and climbing frame with a contemporary design. This GetSet model is available in a compact size. We also have extended models for those looking for even more fun in their own garden. In combination with the EXIT GetSet accessories, the possibilities are endless!
Continue reading Read less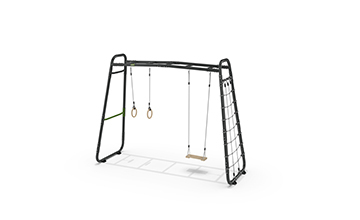 Do you choose the compact model?
If you don't have a very large garden, then a GetSet monkeybar from the MB200 series would be perfect for you. These play units have a frame length of about 3.5 metres with space for two accessories in the middle. You can also attach play accessories to the sides. With the MB210 you standardly receive various accessories like a swing. With these accessories, the kids have plenty to vary with and they can have fun outside for hours on end.
Do you choose the extended play model?
Is your backyard large enough for a play model from the GetSet MB300 series? With their frame length of almost 4 meters they offer space for extra play accessories in the middle. This means even more fun whilst playing outside! If you choose the MB310 you standardly receive various accessories like a swing and a climbing net. The children can swing back and forth on the monkeybar, climb and clamber and swing; so such fun!
Extra play accessories
Would you like more variation? You can! Choose your favourite EXIT GetSet play accessories and vary them for even more fun and challenge. That way, playing outside on the GetSet becomes all the more fun. When the kids get older you can also choose to exchange the play accessories for sports accessories. That way the GetSet grows along with you and your family. You can change the accessories with the easy suspension system.
Read less