EXIT GetSet play and sports
For parents with young children and adolescents: with this EXIT GetSet play and sports units you make everybody happy! You can choose from monkeybars with play and sports accessories or choose your own accessories. Because the frame has been galvanized and powder coated, these GetSets have a long lifespan. For years of guaranteed fun!
Continue reading Read less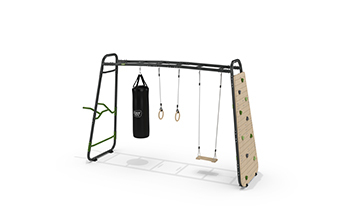 Which model do you choose?
The play and sports combination of the EXIT GetSet is available in a compact model and in an extended model. The compact GetSet is about 3.5 meters long and standardly contains a few accessories like a push-up bar, punching bag and climbing wall. With the extended GetSet of almost 4 meters, in addition to more length you receive an extra accessory. Would you like to determine what your GetSet is going to look like yourself? Then you can choose a GetSet monkeybar to which you can attach individual EXIT GetSet accessories.
Playing and exercising: the perfect combination!
While you are going through the exercises of your workout, the kids can enjoy playing outside. That way you can keep an eye on them whilst working on your shape. win-win! These multifunctional GetSets have a sleek and appealing design and are an asset to every garden. GetSet and have fun together!
For even more variation!
For our GetSet play and sports units there are various accessories available. Make playing outside even more variable by adding a trapeze or climbing net to your monkeybar. Are you up for more challenge in your fitness routine? Then check out our sports accessories: which one will bring your workout to the next level?
Read less