EXIT GetSet accessories
With the various GetSet accessories you can expand the possibilities of your GetSet play or sports unit to your own wishes. Would you like more play elements for the children, then you've come to the right place at EXIT Toys. And would you like to raise the bar when it comes to working out? EXIT Toys has plenty of accessories to lift your workout to a higher level. GetSet and go!
Continue reading Read less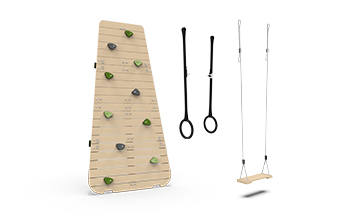 GetSet play accessories
Do your children love swinging? Are they crazy about tumbling or are they real climbing monkeys? At EXIT Toys you can find numerous fun GetSet play accessories. With these accessories you can expand your GetSet unit and stimulate the children to go outside to play and have fun together. You can easily change the accessories with the suspension system.
GetSet sports accessories
Have you purchased a GetSet sports unit and would you like to have even more variation in your workout? Or does your 14+ year-old need different exercises than you do? Then check out our GetSet sports accessories From an extra gym bench to a climbing wall: you can do anything with it. For plenty of challenge for sportive 14+ year-olds and adults. You can change the accessories with the easy suspension system.
The GetSet grows along with you
Have you purchased a GetSet play unit and have your children meanwhile grown into adolescents? Then you can start varying with your GetSet by combining the play accessories with sports accessories. That way the GetSet grows along with you and your family!
Safety tiles for a soft landing
With our EXIT safety tiles, children can play, climb, and clamber on the GetSet endlessly and carefree. These rubber tiles ensure a softer landing, as they spread the impact of a fall over a larger surface. The risk of injury is therefore much lower. And because the grass grows through the tiles, they are barely visible in the garden after a while.
Read less