EXIT GetSet play and sports units
Outside is the perfect place to have fun, play and exercise! With the EXIT GetSet, an outdoor play and fitness unit for in your own garden, you have this within hand's reach every day. There's a suitable EXIT GetSet for everyone, from gorgeous monkey bars you can use to play and exercise on to challenging powerstations for the true sports fans among us. Whichever version you choose, hours of outdoor fun in the fresh air is guaranteed!
Continue reading Read less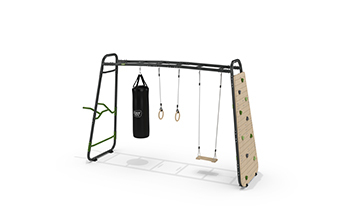 The GetSet grows along with you
You can determine what your GetSet is going to look like yourself. Choose your favourite play or sports accessory or order extra accessories for your GetSet model. Whatever you like! And once the children are a bit older, you can change the play accessories into sports accessories. The GetSet grows along with you and your family.
Asset to every garden
From a compact size that fits in almost every garden to an extra-large version for even more of a challenge: there's a GetSet for everyone's wishes. Due to the sleek and appealing design, the GetSet is a beautiful asset to every garden!
GetSet choice aid
Which GetSet suits you best? With our GetSet choice aid you can find out which GetSet best suits your needs in only a few steps. Are you still in doubt? Then feel free to contact our customer service; our employees love to help!
Quality comes first
The GetSet is rock solid and has a long lifespan because the frame has been galvanised and powder coated. Because of this, rust doesn't stand a chance. Due to the plastic connection parts between the metal tubes you can play or exercise without the annoying squeaking or crackling sound of metal brushing against metal.
Firm anchoring
The frame of each GetSet is firmly anchored with quick-concrete for a super stable foundation. This way you can safely let your kids play outside on the GetSet, also when friends or neighbourhood children are joining in the fun. The GetSet is standardly delivered with an anchoring set (excluding quick-concrete) with a clear action plan so you'll know exactly how to secure your GetSet.
Read less