Trampolines
Bouncing on a trampoline in your own garden? Who can resist that? With the trampolines of EXIT Toys, the options are endless! But choosing the right trampoline depends on a number of factors, such as the size, the price, the type, the bouncing comfort, and the quality class. And how about the colour? From neutral to striking colours - everything is possible with EXIT trampolines.
Continue reading Read less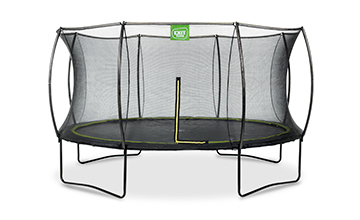 Trampolines in all shapes and sizes
At EXIT Toys you find various trampoline series. These series not only differ in looks, but also in bouncing comfort and quality class. From our stylish Silhouette trampolines up to the high quality Elegant trampolines and sports trampolines: we always have a trampoline that fits your wishes.
A trampoline for every garden
EXIT trampolines are available in many different sizes, and we always offer you the choice between a round and rectangular trampoline. To finish it off, in our webshop you'll find inground trampolines as well as trampolines on legs. Thanks to our broad product range we have a trampoline for every garden, including yours!
Trampoline selection aid
Are you having difficulties making the right choice? Then bounce through the EXIT trampoline selection aid. In just a few steps you'll find the perfect trampoline that suits your needs. And are you still not sure of your decision? Our customer service is jumping at the chance to offer you advice.
Read less