EXIT sports trampolines
On the EXIT Toys sports trampoline, persons of 14 years and up can bounce like a true pro! Because of the double conic springs, you can easily jump sky high into the air and endlessly practice the most difficult tricks. Our sports trampolines are available in various shapes and sizes. Due to the low entrance, they are easily accessible, and they have a serene look. Find out which sports trampoline suits you best!
Continue reading Read less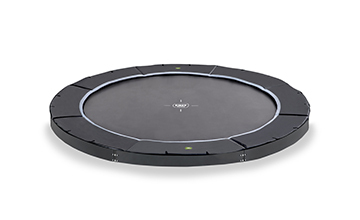 Silhouette or Elegant sports trampoline?
From sharply priced starter models to a inground trampoline for experienced jumpers. Which sports trampoline do you choose?
The stylish Silhouette ground sports trampoline is a perfect sports trampoline for starters. On this trampoline you can jump for hours on end and enjoy the ultimate feeling of freedom.
The Elegant ground sports trampoline can easily be assembled and is partially dug into the ground. This results into a serene look in the garden. The trampoline has double conic springs of 17.7 cm. Would you like to have the ultimate jumping experience? Then choose the Elegant Premium ground sports trampoline with extra long premium springs of 21.6 cm.
Extra safety
All our sports trampolines are delivered without a safety net. That way, during jumping and while you're practicing difficult tricks, you'll experience the ultimate feeling of freedom. For the optimal feeling of safety, you can also opt for a matching, high quality safety net with all the trampolines. With some trampoline sizes you can even choose the unique EXIT Freezone safety tiles. Because the grass can grow through these tiles, they are hardly visible in your garden. That way everyone can enjoy jumping without a care!
For years of jumping fun
With the EXIT sports trampolines, durability has also been considered. The frame has been galvanized and then powder coated for optimal protection against weather influences and rust. The high-quality protective edge completely covers the galvanized springs and is equipped with a specially developed Foot Protection System (FPS), so you cannot get your foot between the springs while trampolining.
Quality mark
Sports trampolines of EXIT Toys are delivered without safety accessories. This automatically means that they fall outside the CE marking and are suitable for persons of 14 years and up. Of course, our sports trampolines have been tested on all other safety requirements that apply to these trampolines.
Read less