EXIT basketball poles and backboards
Are you basketball fan through and through and would you love to practice your basketball skills every single day? Then a high quality basketball system from EXIT Toys is an absolute must for in your garden. With such a great variety of different systems to choose from, there will always be a basketball pole or basketball backboard to suit you. Lift your basketball skills to a higher level with the basketball poles and backboards from EXIT Toys.
Continue reading Read less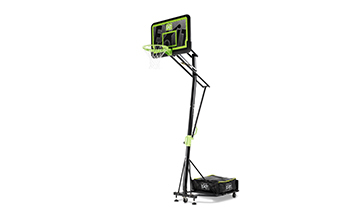 Polestar basketball poles
The Polestar basketball poles can easily be moved, are adjustable to five different positions and have, just like the official basketball systems, a transparent backboard. The Polestar basketball poles have a professional look and are even available with a dunk hoop. With the flexible dunk hoop you can really improve your slam dunks. For the best passes, assists and slam dunks practice with one of the EXIT Polestar basketball poles.
Galaxy basketball systems: an absolute eyecatcher in your garden
Are you looking for a basketball system for on the ground, a portable system or maybe a backboard for on the wall? You will find it all in the Galaxy-series from EXIT Toys. The Galaxy basketball poles and backboards are available with a standard basketball hoop or a dunk hoop in two different editions. One of the editions has, just like you see in official basketball matches, a transparent backboard. The Galaxy black edition on the other hand is, with its cool and striking black backboard, an absolute eyecatcher in your garden.
Comet basketball pole: adjustable and portable
The Comet basketball system is a true asset for every type of garden or driveway. A Comet basketball pole has a robust frame with two wheels which makes it easy to move to any location you like. In addition to that, the transparent basketball backboard of this system is also adjustable to six different positions, so you can train your basketball skills all you like. Challenge your friends for a serious game of basketball with the EXIT Comet basketball pole!
Read less