EXIT InTerra trampolines
The EXIT InTerra ground level trampolines need to be dug into the ground. The round and rectangular InTerra trampolines are available with grey or green padding and you can also choose a variant with a safety net. Children of all ages have fun jumping on an InTerra trampoline which is an advantage for the whole family.
Continue reading Read less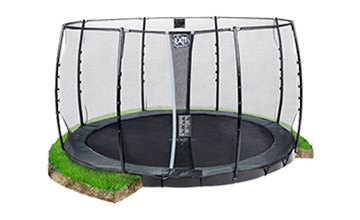 Completely at ground level
The InTerra trampoline of EXIT Toys is completely dug in at ground level. This means that it does not take up any unnecessary space and gives your garden a lovely and tranquil look. Children of all ages can easily and safely climb unto the InTerra trampolines. Climb on and start jumping!
Let's jump!
EXIT Toys also thought about how to achieve good bouncing in the InTerra trampolines. Thanks to the 17.7cm double-conical springs, you enjoy a great bounce and a soft landing. The air created when jumping on the trampoline escapes via the unique de-aeration system of the trampoline. So you can jump as much as you want and the trampoline won't even cause much noise.
Durable and safe
Enjoy years of jumping pleasure with the sturdy padding and the high-quality frame of the InTerra trampolines. What makes the trampoline extra safe is the EXIT Foot Protection System. That always prevents you from getting your feet tangled in the springs. So, let's jump!
Super cool trampoline accessories
There are all sorts of accessories available for our trampolines. Make trampoline jumping even more fun with the EXIT trampoline basket on the safety net or protect your trampoline with a weather cover for a longer lifespan. View all our trampoline accessories and covers for more information.
Read less