EXIT rectangular trampolines
Sleek, stylish, and highly suitable for practicing acrobatics tricks: we're talking about the rectangular trampolines of EXIT Toys. At EXIT Toys you find rectangular trampolines in various sizes, on legs, inground as well as groundlevel. Let's jump!
Continue reading Read less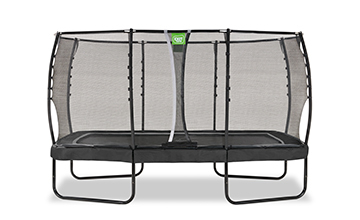 Rectangular trampolines: all benefits lined up
A rectangular trampoline is a stylish addition to the modern garden with clean lines. A rectangular trampoline takes up less space due to its square shape and is easy to place in a corner. Looking for a trampoline on which you can perform all kinds of tricks? The rectangular shape makes the trampoline perfect for your craziest tricks!
Cheerful colours
At EXIT Toys you find a wide range of rectangular trampolines. The sharply priced Silhouette trampolines and the high-quality Elegant trampolines are available in various cheerful colours. Both trampoline series are available on legs as well as inground. Pink, green, purple, or blue? EXIT Toys has the trampoline for you!
Absolute top
Would you rather have a classic black trampoline? Then the matte black PeakPro trampoline or the Dynamic groundlevel trampoline is a great choice! Both trampolines are absolute showpieces from the EXIT Toys collection. So would you like a rectangular top-quality trampoline? Choose the PeakPro trampoline on legs or the Dynamic groundlevel trampoline of EXIT Toys!
Read less