EXIT round trampolines
The round trampoline is a true classic and suits perfectly in a playful garden with round shapes, like a natural pond, free paths and a round sitting area. At EXIT Toys you can find a wide range of round trampolines on legs, round inground trampolines and round groundlevel trampolines.
Continue reading Read less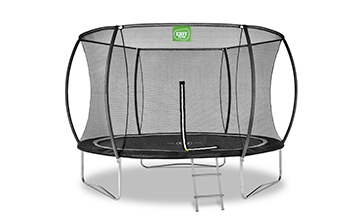 A safe choice!
Round trampolines are highly suitable for young children. This because the round shape makes sure the springs are evenly tightened everywhere. That way, with every jump children are pulled back to the middle. So it's super safe!
Super fun!
A round trampoline is not only safe, but also loads of fun: a tight bouncing surface all over means that you can jump optimally on a large part of the surface. That's why with the round trampolines of EXIT Toys you use every corner of the bouncing surface! Experience great adventures on a round trampoline of EXIT Toys.
Round trampolines of 183 to 305 centimetre and more
Every garden is different and that's why EXIT Toys has trampolines with various diameters. Do you have little space available in the garden, but would you still like to buy a trampoline for your kids? Then a small EXIT trampoline of 183 or 244 centimetres would be perfect. In a larger garden, a trampoline of 305 or 366 centimetres suits well. And do you have more jumping space available? Then the large 427-centimetre trampoline is a real must-have.
Wide assortment
Round trampolines are hugely popular and that's why at EXIT Toys you find a wide range. The PeakPro trampolines and Dynamic groundlevel trampolines are round trampolines of absolute top class. And the round Elegant trampolines on legs have the sturdiest frame in the world thanks to their unique L-legs. Would you rather go for a budget friendly Black Edition or Silhouette trampoline? These trampolines are a true asset to your backyard as well and available in various diameters.
Read less