Trampoline series
At EXIT Toys we have a suitable trampoline for everyone. The choice is huge: which is fun, but also quite the challenge. Will you choose a compact Tiggy junior, a joyful Elegant, a stylish Silhouette or Black Edition or have the PeakPro and Dynamic trampolines become the objects of your affection?
Continue reading Read less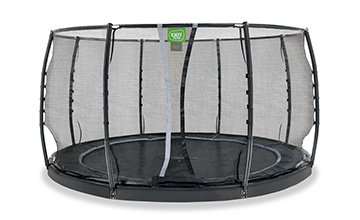 Versatile Elegant trampolines
Looking for a high-quality trampoline in your favourite colour? Then you're in luck! Thanks to the wide offer in Elegant trampolines, we always have a suitable trampoline for your family. You not only have the choice of six colours and six sizes, but you can also choose the Elegant trampoline on legs or an Elegant inground trampoline. Would you like an extra luxury trampoline? Then choose the EXIT Elegant Premium trampoline.
| | | |
| --- | --- | --- |
| | Bounce rate | Quality rate |
| Elegant trampoline | | |
| Elegant Premium trampoline | | |
Stylish Silhouette and Black Edition trampolines
Would you like a budget-friendly, but also highly stylish trampoline in your garden? Then choose a Silhouette or Black Edition trampoline of EXIT Toys. The Silhouette trampolines are available on legs as well as inground, in the colours black, green, and pink. Or would you rather have our round Black Edition trampoline? The Black Edition trampoline is very competitively priced and has a calm appearance in the garden. With the Silhouette and Black Edition trampolines children will have hours of bouncing fun.
| | | |
| --- | --- | --- |
| | Bounce rate | Quality rate |
| Silhouette trampoline | | |
| Black Edition trampoline | | |
High-quality PeakPro and Dynamic trampolines
Meet the trampolines from our top class: the PeakPro trampolines on legs and the Dynamic groundlevel trampolines. These trampolines are made of extremely high-quality materials, making them last for years. In addition, enjoy a bouncing comfort like never before. Are you a true jumping fanatic and would you like to do the coolest tricks? With the PeakPro or Dynamic trampoline you will reach great heights.
| | | |
| --- | --- | --- |
| | Bounce rate | Quality rate |
| PeakPro trampoline | | |
| Dynamic trampoline | | |
Tiggy Junior trampoline: a trampoline for toddlers
Of course EXIT Toys has also thought of toddlers and pre-schoolers: the Tiggy junior is a trampoline especially made for your toddler's first jumps. Kids have the greatest joy on this fun trampoline!
Trampoline selection aid
Are you having difficulties making the right choice? Then jump through the EXIT trampoline selection aid. In just a few steps you'll find the perfect trampoline that suits your needs. Or read which trampoline fits your child(ren) best. Are you still not sure of your decision? Our customer service is jumping at the chance to offer you advice.
Read less