EXIT trampoline robot mower stops
Is a trampoline and a robot mower together in the garden impossible? Not at EXIT Toys. We have found the perfect solution for keeping the robot mower away from the trampoline: The trampoline robot mower stop. This robot mower stop can be attached to the legs of the trampoline, so that the robot mower will always detect the trampoline to avoid damage.
Continue reading Read less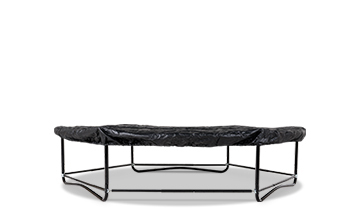 A fitting stop for every type of trampoline
Trampolines have different frames and legs, which is why EXIT Toys has a fitting stop for every type of trampoline. For round Elegant trampolines there are special EXIT Elegant robot mower stops and for all other trampolines we have the EXIT robot mower stop M and L. With a fitting robot mower stop from EXIT Toys your trampoline frame will be fully protected when the robot mower is doing its job.
Easy does it
The EXIT robot mower stops have been designed in such a way that they are wider than the widest point of the trampoline and can be attached at any desired height. This way you will know for certain that your robot mower will detect the stop and back off at the right moment. We definitely recommend a robot mower stop to everyone who has a trampoline and uses a robot mower in their garden.
Read less