EXIT trampoline attachments
Has a trampoline attracted your eye, or have you just bought one and are you still looking for the last attachments for the finishing touch? From trampoline ladders to protective covers and robotic mower stops: EXIT Toys has it all!
Continue reading Read less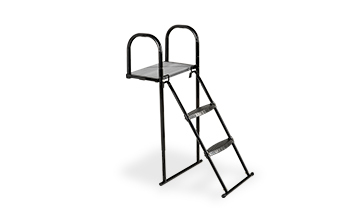 Useful and fun trampoline attachments
EXIT Toys has many matching trampoline accessories, such as a handy ladder to easily climb onto the trampoline or an anchor set to firmly secure your trampoline to the ground. We've also thought of an extra sportive challenge: the EXIT trampoline basket can be attached to the safety net of the trampoline, making it easy to combine a game of basketball with trampoline jumping.
Maintaining your trampoline
For the maintenance of and around the trampoline, you will also find various items. With the special robotic mower stops for trampolines on legs, you let your robotic mower mow the grass while the trampoline safely remains in place. And are the children not jumping or is it winter? Cover the trampoline with a matching cover. With the EXIT Toys trampoline attachments, you will enjoy your trampoline for many years.
Read less