Trampoline types
AT EXIT Toys we have all sorts of trampolines. Like the classic trampolines on legs for example, but also inground trampolines. In addition, there's a wide choice in several types of sports trampolines. And are you looking for a rectangular or round trampoline? EXIT Toys has them all!
Continue reading Read less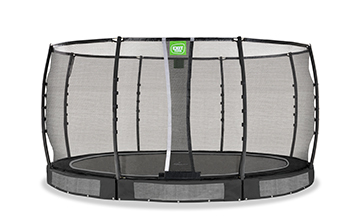 Dug-in trampoline or not?
You want to buy a trampoline, but should you opt for a trampoline on legs or in the ground? EXIT Toys has listed the differences between trampolines:
Trampoline on legs
Prominent in the garden
Can be set up immediately
Higher step – a suitable ladder is available
Available with safety net, safety tiles or without safety accessory
Ground trampoline
Less prominent in the garden
Construction takes more time because a pit needs to be dug in the ground
Easy to access from the ground
Always provided with a safety net or safety tiles
What are the shapes of the trampolines?
Round trampolines are very popular, but there are also rectangular trampolines. Are there huge differences between these shapes? EXIT Toys explains:
Round trampolines
Suitable for beginners
Take up more space in the garden
Wide assortment
Easily keep your balance
Rectangular trampolines
Suitable for more experienced jumpers
Take up less space in the garden
Smaller assortment
Controlled jumping
Sports trampolines: bring your skills to a higher level
Or an unprecedented amount of jumping fun you choose one or our sports trampolines. With the double conic springs, you can easily jump sky high into the air and endlessly practice the most difficult tricks. Our sports trampolines are available in various shapes and sizes. Whichever one you prefer and, of course, whichever one fits best in your garden.
These sports trampolines are delivered without a safety accessory. This automatically means that they fall outside the CE marking and are suitable for persons of 14 years and up. Would you rather go for an optimal feeling of safety? Then these trampolines are also available with a high-quality safety net or with the unique EXIT Freezone safety tiles. That way everyone can enjoy trampolining without a care.
Read less