EXIT trampolines on legs
Are you looking for a trampoline that doesn't take up a permanent spot in the garden? A trampoline on legs can easily be moved so you can place it anywhere you like!
Continue reading Read less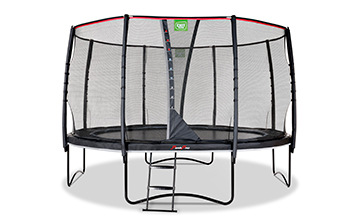 Safety first
Is a trampoline on legs dangerous? Not with EXIT Toys! To ensure an optimal safety, EXIT trampolines on legs are standardly provided with a safety net. Because of this, children can experience carefree bouncing fun and challenge themselves to practice cool tricks. At EXIT Toys you also find high-quality trampoline ladders, possibly provided with a platform for extra safety.
The choice is huge!
At EXIT Toys you find a wide range of trampolines on legs. The absolute top model is the EXIT PeakPro trampoline. But with its long double conic springs, the high-quality Elegant trampoline offers a ground-breaking bounce experience as well. Are you looking for a good trampoline for a budget friendly price? Then the stylish Silhouette or Black Edition trampoline is the perfect choice.
Read less