EXIT inground trampolines
An inground trampoline is a trampoline that for the most part is dug in, whereby the frame sticks slightly above the ground. Because the inground trampoline is close to the ground, children can easily access the trampoline. You can opt for a safety net as a safety accessory. Would you rather not have a safety accessory, then no problem. The choice is yours!
Continue reading Read less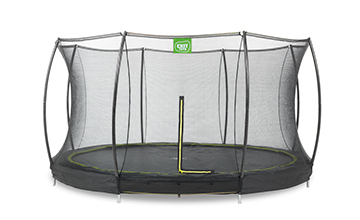 Digging in a trampoline
Digging in a trampoline? Time to roll up your sleeves! Thanks to the useful trampoline digging tips of EXIT Toys luckily you will have this job done in no time. The result is definitely worth it: an inground trampoline provides a beautiful and calm look in the garden.
Inground trampoline series
At EXIT Toys you find various inground trampolines. The classic, sharply priced Black Edition inground trampoline for example. But the Silhouette inground trampoline is also a stylish and budget friendly choice. Would you like a high-quality trampoline? Then the rock-solid Allure inground trampoline is the perfect trampoline for you.
Read less